Paychecks shrinking despite fiscal cliff deal
A payroll tax cut is allowed to lapse, taking a bite out of middle-class earnings.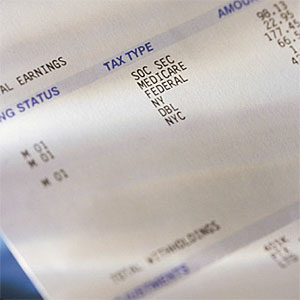 Before middle class taxpayers do backflips or cry into their bank statements over the fiscal cliff deal, they should know their taxes were going up regardless of the outcome.
No amount of salty language reportedly exchanged between Speaker of the House John Boehner and House Majority Leader Harry Reid was going to prevent an increase in the payroll taxes used to fund Social Security. That levy was reduced to 4.2% for 2011 and remained in place last year as the White House and Congress attempted to pump more consumer cash into the economy.
As of Jan. 1, that tax returned to its previous level of 6.2% for annual incomes up to $113,700. For a worker making $41,000, the average salary nationwide, that translates to $64 less in take-home pay a month and nearly $770 less a year. The hit jumps to $189.50 a month and nearly $2,300 annually for those at the high end of the spectrum.
Neither Republicans nor Democrats seemed especially interested in saving the payroll tax cut, and neither economists nor employers think much of that decision. Brad DeLong, a University of California at Berkeley economist and former adviser to President Bill Clinton, told the Washington Post on Tuesday that eliminating the payroll tax reduction would stifle growth of the overall economy by two percentage points this year.
"The failure to extend the payroll tax cut until the unemployment rate drops below 6.5% or interest rates rise is a big negative," DeLong said.
Mike Brey, who owns four Hobby Works stores near Washington, D.C., told CNN that he notified his store managers about the upcoming tax bump on Monday. While he'd like to raise employee pay to offset the hike, he cut his own salary, fired workers, ran up $500,000 in debt and dipped into his own 401k fund just to get his business through the recession and save jobs for his remaining employees.
"These are the people who can least afford it," Brey said.
Though the payroll tax cut has cost the Treasury $120 billion a year during the last two years, it's coming to an end during a rough patch for consumers. The Consumer Confidence Index dropped six points in December amid fiscal cliff debates and fears of tax hikes. Those looming taxes took a toll on holiday shopping, with MasterCard Advistors SpendingPulse reporting that holiday spending between Oct. 24 and Dec. 24 increased only 0.7% this year compared to 2% in 2011.
Even the White House thought increasing the payroll tax and other levies on the middle class would have dire consequences for the economy. It warned Congress of this in a report issued in late November.
"As we approach the holiday season, which accounts for close to one-fifth of industry sales, retailers can't afford the threat of tax increases on middle-class families," the report said.
Threat? As of Tuesday, at least one middle-class tax increase just became a promise. Whether consumers will confirm everyone's worst fears and tighten spending remains to be seen, but they already have a 2% head start.
More on Money Now

DATA PROVIDERS
Copyright © 2014 Microsoft. All rights reserved.
Fundamental company data and historical chart data provided by Morningstar Inc. Real-time index quotes and delayed quotes supplied by Morningstar Inc. Quotes delayed by up to 15 minutes, except where indicated otherwise. Fund summary, fund performance and dividend data provided by Morningstar Inc. Analyst recommendations provided by Zacks Investment Research. StockScouter data provided by Verus Analytics. IPO data provided by Hoover's Inc. Index membership data provided by Morningstar Inc.
MARKET UPDATE
[BRIEFING.COM] Nov crude oil is trading higher this morning as the U.S. and Arab allies have begun missile strikes in Syria on the Islamic State. The energy component dipped to a session low of $90.77 moments after equity markets opened but quickly recovered back into positive territory. It popped to a session high of $91.90 in recent action and is now up 0.9% at $91.64.

Oct natural gas is chopping around in a tight range between $3.88 and $3.90 in the black. It is currently up 1.2% at ... More
More Market News