Is winning the lottery hazardous to your health?
One winner's death is investigated after cyanide poisoning is detected. Researchers say that a bigger jackpot can lead to bankruptcy.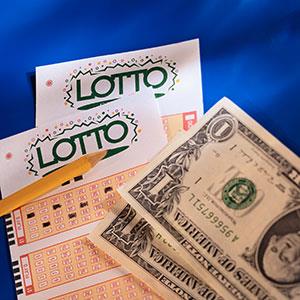 Millions of Americans dream of striking it big with a lottery win, but those who claim prizes sometimes find the dream comes with a dark side. 

For one man, the lottery may have proved fatal. According to the Cook County, Ill., medical examiner's office, Urooj Khan -- who won $1 million last year from a scratch ticket -- died after ingesting a lethal amount of cyanide, reports CNN.
The ruling came after the medical examiner revisited the case at the urging of a relative. Earlier, the office had ruled Khan's death natural. 
The new finding "led us to issue an amended death certificate that (established) cyanide toxicity as the cause of death, and the manner of death as homicide," said chief medical examiner Steve Cina on Monday. 
No arrests have been made, although the Chicago police are investigating, according to the report. 
While the motives behind Khan's death may still be a mystery, it's clear that lottery jackpots don't always bring health and happiness.
An extra-large lottery prize carries a larger chance of going bankrupt, according to a paper published in 2010 from researchers at University of Kentucky, University of Pittsburgh and Vanderbilt University. The study tracked two groups of Florida Lottery winners: one that won less than $10,000 and a second group that won up to $150,000. 
The result? The big jackpot receivers were more likely to file for bankruptcy between three to five years after winning. 
Khan isn't the only lottery winner to lose his life after hitting it rich. Jeffrey Dampier, who with his wife won $20 million in 1996, helped out his family by buying houses and giving them jobs, according to Business Insider. But in 2005, Dampier's sister-in-law and her boyfriend kidnapped him and killed him. The pair received life sentences for their crimes.
In another case, Abraham Shakespeare of Florida was killed after winning a $31 million lottery jackpot. In December, a friend was convicted of killing him and was sentenced to life in prison without parole, with the judge citing money as the motive for the crime.
For Khan, the jackpot was going to help him pay down his mortgage, pay off bills, invest in his dry cleaning business and donate to St. Jude Children's Research Hospital. He never got to pick up a check of about $425,000, which was issued on July 19, according to WGNtv.
Instead, Khan went to work on July 20, ate dinner, went to bed, and woke up that night screaming in pain, one report notes. Khan was taken to an Evanston hospital, where he was pronounced dead.

More on Money Now

DATA PROVIDERS
Copyright © 2014 Microsoft. All rights reserved.
Fundamental company data and historical chart data provided by Morningstar Inc. Real-time index quotes and delayed quotes supplied by Morningstar Inc. Quotes delayed by up to 15 minutes, except where indicated otherwise. Fund summary, fund performance and dividend data provided by Morningstar Inc. Analyst recommendations provided by Zacks Investment Research. StockScouter data provided by Verus Analytics. IPO data provided by Hoover's Inc. Index membership data provided by Morningstar Inc.
MARKET UPDATE
[BRIEFING.COM] Equity indices remain near their flat lines as heavily-weighted sectors continue trading in mixed fashion.

At this juncture, the industrial sector (-0.6%) is the weakest performer among cyclical groups with defense contractors pressuring the space. The PHLX Defense Index is lower by 1.1% with just about every component trading lower. Including today's decline, the Defense Index is now down 2.4% for the week and off 0.7% so far in September. On the upside, General ... More
More Market News