A new space prospecting rush is on
It's not science fiction anymore: Companies are developing plans to mine our solar system.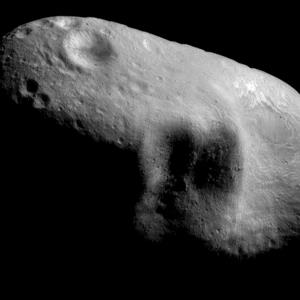 This year could see the launch of a "space rush" of sorts as companies look skyward for new worlds to explore and mine for natural resources.
While some companies are rolling out plans to take paying customers into space, another set of entrepreneurs wants to bring things back from space -- namely precious metals and perhaps even water from nearby asteroids.
Several firms are already in place with plans to locate and mine these asteroids. The founders of Deep Space Industries held an event this week at the Santa Monica Museum of Flying, where they discussed sending a fleet of unmanned asteroid-prospecting​ spacecraft into the solar system over the next several years.

"Using resources harvested in space is the only way to afford permanent space development," said Deep Space CEO David Gump in a press statement, adding that some 900 new asteroids passing near Earth are discovered every year. "They can be like the Iron Range of Minnesota was for the Detroit car industry last century -- a key resource located near where it was needed. In this case, metals and fuel from asteroids can expand the in-space industries of this century."
According to the Los Angeles Times, Deep Space Industries is working to raise $20 million in funding for the first stage of its missions, which could start as early as 2015.
Finances are already in place, however, for Planetary Resources, set up several years ago by former top NASA officials and some established space entrepreneurs like X Prize founder Peter Diamandis.
The company has Hollywood director James Cameron as an advisor, and counts among its well-heeled investors real-estate magnate Ross Perot Jr. and Google (GOOG) executives Larry Page and Eric Schmidt.

Another investor is philanthropist and former space tourist Charles Simonyi, who helped Microsoft (MSFT) develop the Office software line. (Microsoft owns and publishes moneyNOW, an MSN Money site.)
"Commercial space started with communication satellites," Simonyi told Popular Mechanics last year, "and it's continuing with space tourism, that I have been fortunately part of. I think that the next step is going to be the exploration and commercialization of space resources."

So what are some of those space resources that could be commercialized? Water, of course, which can be used to support future astronauts. And when broken down into hydrogen and oxygen, water may also end up as rocket fuel.
There are also precious and other metals. Diamandis tells Popular Mechanics that one 500-meter-wide asteroid may hold as much platinum and other rare metals as has ever been mined from the Earth.

"Using low-cost technologies and combining the legacy of our space program with the innovation of today's young high-tech geniuses," said Deep Space Chairman Rick Tumlinson, "we will do things that would have been impossible just a few years ago."

More on moneyNOW
DATA PROVIDERS
Copyright © 2014 Microsoft. All rights reserved.
Fundamental company data and historical chart data provided by Morningstar Inc. Real-time index quotes and delayed quotes supplied by Morningstar Inc. Quotes delayed by up to 15 minutes, except where indicated otherwise. Fund summary, fund performance and dividend data provided by Morningstar Inc. Analyst recommendations provided by Zacks Investment Research. StockScouter data provided by Verus Analytics. IPO data provided by Hoover's Inc. Index membership data provided by Morningstar Inc.
MARKET UPDATE
[BRIEFING.COM] The stock market finished an upbeat week on a mixed note. The S&P 500 shed less than a point, ending the week higher by 1.3%, while the Dow Jones Industrial Average (+0.1%) cemented a 1.7% advance for the week. High-beta names underperformed, which weighed on the Nasdaq Composite (-0.3%) and the Russell 2000 (-1.3%).

Equity indices displayed strength in the early going with the S&P 500 tagging the 2,019 level during the opening 30 minutes of the action. However, ... More
More Market News