Beer helps rebuild California monastery
Aided by fundraising partner Sierra Nevada, Trappist monks have raised $7 million for an abbey restoration.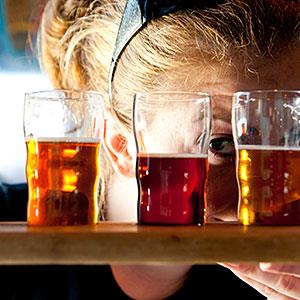 The rewards of heaven are the key perk for Trappist monks following in St. Benedict's footsteps and committing to piety and relative silence.
Solving financial problems by brewing beer is just an ancillary benefit.
The monks of the Abbey of New Clairvaux in Vina, Calif., have raised $7 million over the past 12 years to restore a Trappist monastery -- Santa Maria de Ovila -- that was shipped stone by stone from Spain by newspaper tycoon William Randolph Hearst in the 1930s. Beer drinkers helped pick up the tab after the monks' neighbors at Sierra Nevada Brewing Co. created a series of Ovila Abbey ales as a fundraiser and continued a Trappist tradition maintained by anyone who's picked up a bottle of Orval or a brick pack of Westvleteren XII.
The first phase of the California monks' restoration project is complete, with the San Francisco Chronicle reporting Tuesday that the Chapter House of Ovila is now standing and intact at its new home in Vina. It's been a long journey for the monastery stone, which Hearst originally planned to use as building material for the changing room of an indoor swimming pool in an estate he never completed.
He donated the abbey to the city of San Francisco, which dumped the dismantled building in Golden Gate Park and left it disassembled for decades. The New Clairvaux abbey's founder saw the stones during a stroll through the park in 1955 and eventually convinced the city to give them to his order. Even with the money raised by Sierra Nevada, the monks still need another $2 million to install the right window glass, floors and electricity to finish the Gothic limestone abbey.
"Will it take another 12 years?" Father Mark Schwan told the Chronicle. "I prefer it not."
It likely won't, given the beer-loving public's response to the Trappists' brew. While the Ovila brews have found a following among Belgian beer lovers, the seven Belgian Trappist brewing monasteries have made beer drinkers giddy with their fundraising releases. Earlier this month, the monks of St. Sixtus Abbey in Westvleteren, Belgium, needed a new roof and decided to sell beer in the U.S. to finance the project.
This particular abbey just happens to make a brew considered arguably the best in the world: Westvleteren XII. Procuring some usually means calling the abbey for weeks or months at a time until someone answers and hopping a flight to Belgium and driving to the monastery for a rack of bottles. That odyssey became stuff of legend among beer geeks, who lined up at liquor and bottle shops across the country to pay $85 for one of 15,000 six-packs of the brew and a pair of commemorative glasses. The monks insisted on their website that it was a "one time only" sale, but it proved effective after the gift packs sold out in less than a day.
Not all Trappist beer is so scarce, however. The Chimay line of beers from the Scourmont Abbey in Chimay, Belgium, has a large presence in the U.S. and typically serves as a gateway beer for those unacquainted with the Trappists' work. Meanwhile, hardened beer geeks argue furiously that the mythos behind Westvleteren XII gives the beer its only advantage over more widely available Trappiste Rochefort beers from the Abbey of Saint-Remy in Rochefort, Belgium.
The Trappists also occasionally sell cheese, liquor, body care products and cleaning products to keep their abbeys afloat, but few of those products have the same exotic appeal or price tag of their beers. The monks also get the residual benefit of having beer around for themselves, as the Belgian monasteries aren't opposed to sipping from their own supply.
How does the beer fit into the monks' spiritual and scholarly pursuits? Just fine, thank you. The Rule of St. Benedict that the monks live by has a stipulation that covers such pursuits, and even comes with a warning for those monks who may get a little too intoxicated by the thought of easy cash and ample beer:
If, however, the needs of the place, or poverty should require that they do the work of gathering the harvest themselves, let them not be downcast, for then are they monks in truth, if they live by the work of their hands, as did also our forefathers and the Apostles. However, on account of the faint-hearted let all things be done with moderation.
Though Sierra Nevada's beer may help the monks of New Clairvaux expedite the completion of their abbey, the monks' patience over the last 12 years indicates they are approaching the rebuilding process in the same fashion that beer aficionados typically enjoy snifters of their brew: slowly and in moderation.
More from Money Now

DATA PROVIDERS
Copyright © 2014 Microsoft. All rights reserved.
Fundamental company data and historical chart data provided by Morningstar Inc. Real-time index quotes and delayed quotes supplied by Morningstar Inc. Quotes delayed by up to 15 minutes, except where indicated otherwise. Fund summary, fund performance and dividend data provided by Morningstar Inc. Analyst recommendations provided by Zacks Investment Research. StockScouter data provided by Verus Analytics. IPO data provided by Hoover's Inc. Index membership data provided by Morningstar Inc.
MARKET UPDATE
[BRIEFING.COM] S&P futures vs fair value: +0.50. Nasdaq futures vs fair value: +5.30. Equity futures point to small gains at the open.

Asian markets finished mixed amid a quiet overnight trade.

Economic data from the region was limited to Japan's trade balance, which posted a record March trade deficit of JPY1.71 trln (JPY1.27 trln expected, JPY1.18 trln previous) on a 1.8% rise in exports and 18.1% jump in imports.

More Market News