Would you tip $10 on a $1,500 pizza delivery?
Somebody did -- and got called out for it online. For dining-industry workers, it's just the latest in a string of penny-pinching indignities.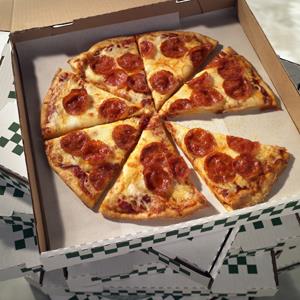 What do you tip a pizza delivery person on a $1,500 order? Hint: Not $10.
Customers of pizza joints and casual-dining establishments should probably keep in mind that not only do the underlings they shoo away between servings of low-cost food rely on tips to live and to balance out their tax burden, but they're not afraid to call you out for being stingy. Reddit has become a compendium of such service-industry horror stories, with the latest coming Tuesday from a user named jfastman who posted the receipt showing a $10 tip added to a $1,453.95 bill.
That's less than a 1% tip, big spender. Meanwhile, one person had to haul 85 pizzas from Point A to Point B. That 10 bucks is well below the $2-per-pizza that the Cornell Hotel School considers a baseline tip for a delivery, according to CNNMoney. That would come out $170 in this case, but if that seems a bit steep, a reasonable 10% tip would set a buyer back $145.
Seriously, 5% and an apology would have at least given the poor pizza schlepper $72.50 or so to play with. But $10 for a literal wall of pizza you had no problem dropping nearly $1,500 on? Mind you, those pizzas went for a not-so-cost-effectiv​e $17 a pop.
Maybe this delivery person should look at the forlorn face of Alexander Hamilton on the $10 bill he got and consider himself or herself lucky. It could be a lot worse. He or she could be the server at Applebee's (DIN) who got stiffed by someone wondering why wait staff should get an 18% tip when "I only give God 10%."
Or he or she could work for Denny's (DENN) franchise owner John Metz, who owns 30 locations in Florida and put his servers in the crossfire of the Obamacare debate. He initially proposed tacking on a 5% Obamacare fee to pay for mandated employee health care and presented customers with two options: "They can either pay it and tip 15% or 20%, or if they really feel so inclined, they can reduce the amount of tip they give to the server."
Denny's CEO John Miller then promptly spat in Metz's cereal by scolding him into an apology, but the leaders of other chains have already discussed cutting worker hours to avoid giving them mandatory health care.
Metz isn't entirely wrong, though. With the restaurant business becoming increasingly focused on value and decreasingly interested in paying for various extras, there are two options: Tip-averse customers can keep stiffing servers and get publicly ridiculed, or we can do away with the gratuity system altogether and boost the average wage.
Since plenty of Americans grouse about that second option as well, get ready for the hour-and-a-half delivery time that comes with living in the low-priority cheapskate house.
DATA PROVIDERS
Copyright © 2014 Microsoft. All rights reserved.
Fundamental company data and historical chart data provided by Morningstar Inc. Real-time index quotes and delayed quotes supplied by Morningstar Inc. Quotes delayed by up to 15 minutes, except where indicated otherwise. Fund summary, fund performance and dividend data provided by Morningstar Inc. Analyst recommendations provided by Zacks Investment Research. StockScouter data provided by Verus Analytics. IPO data provided by Hoover's Inc. Index membership data provided by Morningstar Inc.
MARKET UPDATE
[BRIEFING.COM] S&P futures vs fair value: -5.50. Nasdaq futures vs fair value: -11.80. U.S. equity futures continue holding modest losses with the S&P 500 futures down six points below fair value.

The Dollar Index began the night in the red after gaining 0.6% last week, but a steady rally off the lows has placed the index back near its flat line for the session. The dollar is currently little changed versus the yen (109.05), while the euro (1.2844) and the pound (1.6330) ... More
More Market News