Steven Tyler screams for celebrity privacy
The Aerosmith frontman and American Idol judge goes to Hawaii to support legislation limiting photos of the rich and famous.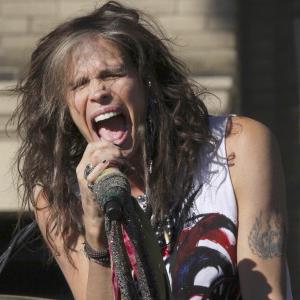 When celebrities are imperiled and injustice follows them at every turn, only one man has a voice strong and incomprehensible enough to cry out on their behalf:
Steven Tyler
.
The Aerosmith frontman, former "American Idol" judge and National Anthem interpreter went to Hawaii on Friday to lobby the state's Senate Judiciary Committee for legislation limiting people's ability to take photos of celebrities.

The Steven Tyler Act, which would allow people to collect damages from someone who photographs them in an offensive way during their personal or family time, comes under consideration at a time when celebrities are increasingly preoccupied with photo editing as they try to maintain their brand.
The Telegraph reported Friday that Kanye West's people have asked Getty Images to remove images of him wearing a leather kilt at a Superstorm Sandy benefit concert after being mocked by old-school rapper Lord Jamar of '90s hip-hop group Brand Nubian. Getty's request line just kept blowing up after Beyonce's publicist, according to Gawker, asked for certain photos from her Super Bowl halftime performance to be scrubbed from its site. A similar request to Buzzfeed only resulted in the site publishing the email and photos while folks on Reddit and other social sites went to great lengths to make the fairly benign photos worth fretting about.
In Tyler's case, he's just trying to get himself and his fellow celebrities some time to grill and sunbathe without the paparazzi's long-range lenses seeing if either the meat or sun-soaked celebrities are burning. Tyler has a multimillion dollar home in Maui and got a dozen celebrities, including Britney Spears, Avril Lavigne, Neil Diamond, Tommy Lee and Ozzy Osborne, to sign form letters supporting the bill.
Even the act's supporters say it could use a bit of tweaking. Hawaii Gov. Neil Abercrombie shares some of the state attorney general's concerns about the bill's language, which has already drawn criticism from the American Civil Liberties Union and the National Press Photographers Association. All stand behind the bill's intent, but aren't keen to take away people's ability to take photos in public places or on the open ocean. The Motion Picture Association of America also isn't a fan of the bill, as it will make it tougher to investigate movie piracy and may open up photographers and videographers to civil suits.
For anyone else, such revisions would be a huge hurdle. For Tyler, whose scatted and screamed Aerosmith lyrics have always found an audience despite needing some occasional clarification, it's just business as usual.
More on moneyNOW

If you don't want to be photographed wearing a leather kilt then don't wear one. Who hasn't seen a picture of themselves in an outfit that made you go "What was I thinking?".  Just because someone takes a picture of you and you have an unflattering or goofy expression on your face you have to ask them to take the pictures down? Have you checked out face book lately? I do agree people should have an expectation of privacy when at home with their family. However if you are in public, with or without your family, then you give up that same expectation as the rest of us.  

The proposed law wants to protect public figures.  Those public figures include politicians... and that's why many politicians are for it.  What irritates people about this law is the fuss Tyler made over one incident while citing hordes or papparazi running amuck endangering celebs or the public... a la Princess Di or Bieber.  There aren't hordes of paparazzi in Hawaii... Steven Tyler isn't Lady Di or Justin Bieber.  Photos of Tyler or Mick Fleetwood just don't command much money.  Papp's aren't going to waste the cost of renting a boat and gas to take pix from the ocean.  The costs outweigh the return.  Tyler states the new law is needed because of "new" technology... like telescopic lenses... which have only been around for decades.  The only relatively new technology are cell phones w/cameras.   It's been said that Tyler's trying to cover his **** (literally) so he can go to drumming circles at Maui's nude beach.  Thing is, Hawaii's beaches are public... and while this law is copying the California paparazzi law... there are already trespassing, reckless driving, stalking & harassment laws in effect.  There's never been a problem till now.  Many people in Hawaii resent legislators wasting time & money on this bill... and being star-struck with the promises from Tyler that this law will bring more celebs to vacation or buy homes in Hawaii.  Celebs buying homes will inflate the cost of homeownership, which is difficult - if not impossible - for the average Hawaiian local to obtain... even while working 2 and 3 jobs. That's already occurred.  People have had to move out of their homes cause celebs upping the cost of housing has made paying taxes on locals homes impossible to pay.   And most of the vacation dollars go to airlines & hotels, which send it back to mainland HQ's.  Granted, people should enjoy have privacy at home but that's already covered in Hawaii.  What's worrisome is opening the door to taking away 1st Amendment rights - slippery slope.  Hawaiian culture promotes respect.  Over decades of living in HI, I've seen or been with many, many celebs walking down the street w/out turning a locals head.  People in HI don't recognize celebs, could care less if they do or just give them the same space they enjoy.  If celebs are bringing problems to Hawaii, maybe their rights should be restricted. 
Are you sure you want to delete this comment?
DATA PROVIDERS
Copyright © 2014 Microsoft. All rights reserved.
Fundamental company data and historical chart data provided by Morningstar Inc. Real-time index quotes and delayed quotes supplied by Morningstar Inc. Quotes delayed by up to 15 minutes, except where indicated otherwise. Fund summary, fund performance and dividend data provided by Morningstar Inc. Analyst recommendations provided by Zacks Investment Research. StockScouter data provided by Verus Analytics. IPO data provided by Hoover's Inc. Index membership data provided by Morningstar Inc.
MARKET UPDATE
[BRIEFING.COM] The stock market finished the Tuesday session on the defensive after spending the entire day in a steady retreat. The S&P 500 (-0.6%) posted its third consecutive decline, while the small-cap Russell 2000 (-0.9%) slipped behind the broader market during afternoon action.

Equity indices were pressured from the start following some overnight developments that weighed on sentiment. The market tried to overcome the early weakness, but could not stage a sustained rebound, ... More
More Market News