NHL lockout puts pro hockey on ice
The ongoing stalemate has caused some fans to turn away from the sport altogether. They aren't necessarily watching more minor-league or college games to get their fix.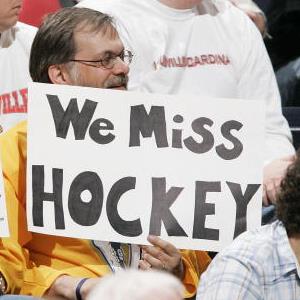 When it comes to major-league hockey, "I'm embarrassed for the game," New Jersey Devils general manager Lou Lamoriello told NJ.com.

And really, who can blame him? The National Hockey League and its players are well past 100 days in a dispute over a collective bargaining agreement. The lockout has led to more than half of this season's games being canceled -- the fourth such lockout since 1991-92 -- and there's no light at the end of this tunnel.

Financially, a lost season could mean a huge hit for the NHL. "Simple arithmetic suggests the NHL will lose an additional $2.75 billion in revenue if it cancels the full season and the Stanley Cup playoffs," says
Detroit News
columnist Gregg Krupa, who also notes Fitch Ratings might assign a "negative outlook" rating to all NHL arenas if the season goes south.
You might think that the NHL's loss would mean an economic gain for both minor-league and college hockey as fans starved for a game look elsewhere, but that's not necessarily the case. Some regular hockey watchers seem disillusioned.
"For me, hockey doesn't really exist this year," Boston-area resident and sports blogger Bill Sall told Boston.com. "I don't like it enough to go to a non-Bruins game."
This year's attendance figures at the minor-league East Coast Hockey League and American Hockey League games vary. Officials in both leagues say they're seeing more people in the stands -- up as much as 10% compared to last year.

But whether that attendance data is linked to the NHL lockout, "we have no definitive information," ECHL commissioner Brian McKenna told the Toledo Blade. "I don't think you'll see the same impact on attendance in the ECHL as you will in the AHL, because a lot of those markets are very close to an NHL affiliate."
And not all minor-league hockey franchises are benefiting. "Some people think because there's a lockout, we can open the doors and (people will) just show up," Rich Lisk, the president and CEO of the ECHL Trenton Titans, said in an interview with GantDaily.com. His team has seen a 1.5% drop in attendance this year. "We're waiting to see if the lockout really is ending. That's going to be the tell-tale sign. I think when there's no NHL season, you might start seeing a difference."
The same seems to go for college hockey. Even at Boston University, one of the top-ranked hockey teams in the country and a frequent contender for the NCAA championship, crowds at the Terriers' first six home games were down 3% compared with the 2011 season.

"It seems a little counterintuitive," BU athletic director Mike Lynch told the Boston Globe, "but having the NHL playing, and especially the Bruins, drives interest in other hockey teams."
Some NHL teams understand that it's not only the fans who are suffering but also the businesses that depend on hockey fans.
Earlier this month, the NHL's San Jose Sharks handed out more than 17,500 free tickets and offered free arena parking for a minor league game between the San Francisco Bulls and the Stockton Thunder at the Shark's HP Pavilion. One pizzeria in downtown San Jose reported an 80% rise in business that night, "entirely due to the game."
But if the cavalry does indeed arrive in the final reel -- that is, if the lockout is resolved and there's an abbreviated but action-filled NHL season this year -- will the fans once again be forgiving?
Perhaps, says Bleacher Report columnist Nicholas Goss. "Watching AHL and NCAA games is only going to satisfy die-hard NHL fans for so long," he says. "These people need NHL games to come back soon, and that's why they will support the league regardless of how frustrated they are right now."
More from Money Now


The heck with the NHL.
I have been a fan of minor league hockey since the last strike.
The CHL & the ECHL have been so much more fun to watch than the NHL. The game is alot more physical & the players actually want to play for the love of the game instead of the fat paycheck!!!
Fan in Colorado. Go Eagles!!!
Are you sure you want to delete this comment?
DATA PROVIDERS
Copyright © 2014 Microsoft. All rights reserved.
Fundamental company data and historical chart data provided by Morningstar Inc. Real-time index quotes and delayed quotes supplied by Morningstar Inc. Quotes delayed by up to 15 minutes, except where indicated otherwise. Fund summary, fund performance and dividend data provided by Morningstar Inc. Analyst recommendations provided by Zacks Investment Research. StockScouter data provided by Verus Analytics. IPO data provided by Hoover's Inc. Index membership data provided by Morningstar Inc.
MARKET UPDATE
[BRIEFING.COM] Equity indices remain near their lows with the S&P 500 trading down 0.8%. The consumer discretionary sector (-1.5%) slumped to the bottom of the leaderboard at the start and the growth-sensitive sector remains behind the other nine groups at this juncture.

High-beta names like Amazon.com (AMZN 321.92, -9.40), Netflix (NFLX 439.80, -17.72), and Priceline.com (PCLN 1157.78, -28.34) have contributed to the underperformance with losses ranging from ... More
More Market News