$3.6 million for a Times Square billboard
Companies are paying dearly for exposure to the 39 million people who visit the square each year.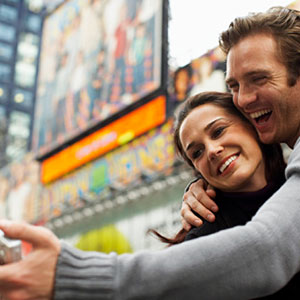 When the ball drops at One Times Square this New Year's Eve, it'll fall on a cushion of luminous, stories-tall billboard ads and millions of dollars in sponsor fees.
One Times Square's owners recently did some refinancing and coughed up some documents detailing its multimillion-dollar ad deals. The Wall Street Journal got a look at them and, on Tuesday, revealed that Dunkin' Donuts (DNKN) shells out $3.6 million a year for its illuminated sign on the building that displays products, photos from Facebook (FB) fans and more. Anheuser-Busch InBev (BUD) adds another $3.4 million to the pot each year to show off cold bottles of Budweiser and long pours of its other brands.
For that payout, the companies get a look from what Travel + Leisure estimates to be 39.2 million people who flock to Times Square annually for Broadway shows, dinners and hundreds of photos they'll unrealistically expect people not to walk through. Add the nearly 23 million Americans who watched the ball drop during New Year's Rockin' Eve on ABC last year, another few million who saw it from a different angle on NBC and millions more who caught the event on broadcasts around the world, and advertisers have a bigger audience than they can get during almost any event on the planet.
As advertisers know all too well, casting a wide net in any one well-stocked place is going to cost them. During Super Bowl XLVI in Indianapolis earlier this year, for example, companies paid between an average of $3.5 million for each 30-second ad, according to Kantar Media. In return, they had access to a U.S. audience that averaged 111.3 million people throughout the broadcast and drew 167 million viewers total. For the 2013 Super Bowl, ad prices have risen to between $3.6 million and $3.8 million.
In fact, prices for advertising in both Times Square and the big game have been climbing steadily in recent years. Back in 2005, Ad Age reported that the average cost of a billboard at One or Two Times Square came in at $2.4 million a year. That's exactly the average price Super Bowl sponsors paid for a 30-second spot that year. In each case, the advertisers are only reserving their spot and haven't covered the cost of a digital, weatherproof Times Square sign or an advertising firm to produce a commercial.
Unlike the Super Bowl, however, Times Square doesn't have a prix-fixe cost for its ads and, occasionally, can offer a discount based on the ad's size and placement. While A-B InBev has dumped $239 million into Super Bowl ads during the last decade and has shown little restraint in buying up high-profile ads in Times Square and sporting facilities, News Corporation (NWS) holding Dow Jones isn't trying to sell truckloads of product and seems happy parting with a relatively cost-effective $1 million a year for its zipper on One Times Square.
That's still fairly high end for real estate in a neighborhood that was known for peep shows, porn theaters and cowboy-clothed hustlers a generation or so ago. Now that it's basically the most high-profile, Disney-approved outdoor mall in America, Times Square doesn't have to wait for the ball to drop to charge advertisers big bucks for its captive audience.
More from Money Now


I wonder how many of these "elegant" and "image" advertisers will be legal drug lords.  They are probably the only ones who can afford such advertising.  But, if they can addict a few more million Americans, then 4 million dollars will look like a good investment for them.  They can't see the future when most of America is addicted to their "ask your doctor" and "tell your doctor" junk medicines and at that time, few will be working at all.  Almost no tax dollars coming in an America will collapse.  It is almost there now.  If we have to put up with legal drug lordslow destruction we would be better off destroyed quickly.  I won't be at the "ball" to see the sign.  Thank you, Germany, for your development of your drone buster!  Iran and North Korea might be good markets! Amen, brothers and sisters!
Are you sure you want to delete this comment?
DATA PROVIDERS
Copyright © 2014 Microsoft. All rights reserved.
Fundamental company data and historical chart data provided by Morningstar Inc. Real-time index quotes and delayed quotes supplied by Morningstar Inc. Quotes delayed by up to 15 minutes, except where indicated otherwise. Fund summary, fund performance and dividend data provided by Morningstar Inc. Analyst recommendations provided by Zacks Investment Research. StockScouter data provided by Verus Analytics. IPO data provided by Hoover's Inc. Index membership data provided by Morningstar Inc.
MARKET UPDATE
[BRIEFING.COM] The stock market began the new trading week on the defensive note with small-cap stocks pacing the retreat. The Russell 2000 (-1.4%) and Nasdaq Composite (-1.1%) displayed relative weakness, while the S&P 500 lost 0.8% with all ten sectors ending in the red.

Global equities began showing some cracks overnight after China's Finance Minister Lou Jiwei poured cold water on hopes for new stimulus measures. Specifically, Mr. Lou said the government has no plans to change ... More
More Market News