High stakes in the maple syrup business
Thievery, skyrocketing prices and a powerful cartel? Your pancake topping is filled with intrigue.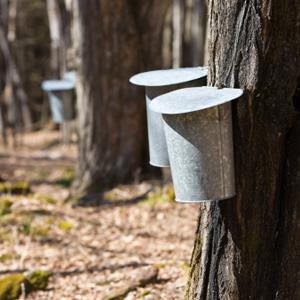 By Bruce Kennedy

Imagine one country quietly controlling 70% of a globally desired resource, a commodity whose growing demand and higher prices have made related stocks vulnerable to multimillion-dollar acts of fraud.

This isn't petroleum or some red herring in a spy novel. It's maple syrup. And the Canadian province of Quebec holds nearly all the cards in its production.

The Federation of Quebec Maple Syrup Producers is a cartel. "It's like OPEC," Simon Trépanier, the federation's acting general manager, recently told The New York Times. "We're not producing all the maple syrup in the world. But by producing 70 to 78%, we have the ability to adjust the quantity that is in the marketplace."
The production of maple syrup is very labor intensive and requires just the right weather conditions. Freezing nights and above-freezing days are needed to get the sap flowing properly in mature maple trees, which are tapped for about six weeks in spring. It takes about 40 gallons of maple sap to produce one gallon of syrup. 

In 2008, after several years of poor harvests and increasing international demand -- the U.S., Japan and Germany are big fans of maple syrup -- the federation started what it calls the Global Strategic Maple Syrup Reserve, which Trépanier says holds about 46 million pounds of syrup.

"In the long term, supply instability has a negative effect on everyone and harms development and innovation," Serge Beaulieu, the federation's president, said earlier this year. Beaulieu said the reserve has helped manage risk.

The federation says the reserve ensures "that markets receive a continuous supply of syrup, regardless of harvest. Further, it will help to prevent discounted sales and price fluctuations. It provides stability and a secure supply while assuring optimal storage conditions."
Price jumps have been a big issue. Recent warmer winters have played havoc with production in both Canada and northern U.S., particularly in New England, affecting production costs and supply. In 2010, according to the Agricultural Marketing Resource Center, the average price for a gallon of maple syrup was $34 in Vermont, where 80% of sales were made in bulk. In Connecticut, however, where most sales were retail, maple syrup was selling at $70 per gallon.

Bloomberg reports the cost of maple syrup has soared 182% over the past 32 years. Those higher prices have apparently proved irresistible to thieves looking for a sweet target.

Just this month, officials in Quebec made several arrests after a record $18 million in syrup was discovered missing from reserve warehouses. Law officers in the U.S. and Canada are trying to track down and recover what they can before it is consumed.
More from Money Now
DATA PROVIDERS
Copyright © 2014 Microsoft. All rights reserved.
Fundamental company data and historical chart data provided by Morningstar Inc. Real-time index quotes and delayed quotes supplied by Morningstar Inc. Quotes delayed by up to 15 minutes, except where indicated otherwise. Fund summary, fund performance and dividend data provided by Morningstar Inc. Analyst recommendations provided by Zacks Investment Research. StockScouter data provided by Verus Analytics. IPO data provided by Hoover's Inc. Index membership data provided by Morningstar Inc.
MARKET UPDATE
[BRIEFING.COM] The S&P 500 (-0.5%) remains pressured as every uptick has been met with selling activity. This morning, the health care sector (-0.6%) was an early source of weakness in reaction to concerns about the impact of new rules on tax inversion deals.

Over the past 30 minutes, Bloomberg reported that Pfizer (PFE 30.01, -0.17) has approached Actavis (ACT 242.88, +7.02) about a potential acquisition. Actavis, which traded with a slim loss ahead of the reports, has ... More
More Market News