Starbucks scribbles fiscal cliff hopes on cups
The coffee giant's CEO hopes to prompt politicians with a 'Come Together' message, but the approach is less potent than decaf.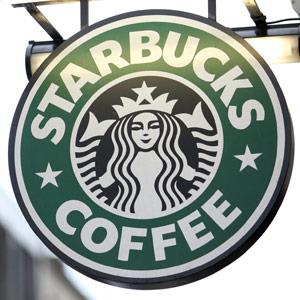 At Starbucks, the answer to the fiscal cliff is, apparently, giving all of its Washington D.C. employees carpal tunnel syndrome.
In a letter to employees that leaked Wednesday, Starbucks (SBUX) chief executive Howard Schultz asked baristas to scrawl "Come Together" on cups for drink orders at all of the chain's roughly 120 locations in the D.C. area on Thursday and Friday. Starbucks servers usually restrict their scribbling to a customer's name and order details, but Schultz says he's trying to send a message to lawmakers about how fiscal cliff negotiations are affecting the "consumer psyche and behavior."
"Rather than be bystanders, you and your customers have an opportunity -- and I believe we all have a responsibility -- to send our elected officials a respectful but potent message, urging them to come together to find common ground," Schultz wrote.

So how's this going to affect the wait time on D.C. denizens' coffee, and will anyone know what it means or care? Starbucks already told baristas to slow their pace two years ago to address quality concerns and apparently did some "Come Together" test runs that found the extra words didn't affect production. Schultz is confident that folks in D.C. are well aware of the ongoing fiscal cliff discussions and will clog his company's social media channels with reminders just in case they aren't.
Congress and President Obama left for Christmas break nowhere close to a deal to address tax increases and automatic government spending cuts scheduled to start next week. Both are headed back to work on Thursday, with the Congressional Budget Office warning them that the fiscal cliff could lead to another U.S. recession.
Since Schultz believes that such broad-ranging economic matters ultimately affect whether or not a customer approaches his counter or upgrades from tall to grande, he tends to get vocal when problems arise. During the debt ceiling debates last year, Schultz vowed to cease his political donations if a deal wasn't made and pressed fellow CEOs to do the same.
In his letter to employees, he uses the group Fix The Debt and its stable of CEO supporters as an example of how the country should be pushing for a solution to the fiscal cliff and steadier federal economic policy in the future. The group's detractors tend to use the word "overreaction" when describing its stance on fiscal cliff issues and point out that raising taxes while cutting spending may balance the nation's books in a way that politically sensitive lawmakers in both parties can't or won't.
Still, Schultz points to this year's noticeably weak holiday season and Wal-Mart (WMT) CEO Mike Duke's warning about the fiscal cliff's effect on holiday spending as signs that something needs to be done. He's taking out full-page ads in The Washington Post and The New York Times (NYT) to further hammer those points home, but even his own company admits it's a fairly passive political effort.
Schultz didn't talk about whether increased taxes or decreased spending should be a bigger part of the solution, and employees may be similarly dispassionate when Thursday and Friday roll around. A company spokesperson told CNN that Schultz's "Come Together" request was not mandatory. Baristas don't have to write it if it makes them feel "uncomfortable."
In summary, Starbucks and its CEO want lawmakers to "Come Together," but in no specific fashion and not if it freaks out the baristas or backs up the line. It's a political statement, but one about as controversial as swapping soy milk for 2% or holding the whipped cream.
More from Money Now

Republicans refuse to allow taxes to rise. Taxes are the lowest in my lifetime and they are too low. We decided to fight two wars on a credit card. The republican insisted that we go to war. They put the bill on our national credit. The bill is due.
Republicans are dishonest and have nearly ruined this nation. Anything that the President can accomplish hurts the GOP politically. Rather than help fix the problems they created, the GOP is once again obstructing. 
They can't find enough cliffs to drive the nation over.
Are you sure you want to delete this comment?
DATA PROVIDERS
Copyright © 2014 Microsoft. All rights reserved.
Fundamental company data and historical chart data provided by Morningstar Inc. Real-time index quotes and delayed quotes supplied by Morningstar Inc. Quotes delayed by up to 15 minutes, except where indicated otherwise. Fund summary, fund performance and dividend data provided by Morningstar Inc. Analyst recommendations provided by Zacks Investment Research. StockScouter data provided by Verus Analytics. IPO data provided by Hoover's Inc. Index membership data provided by Morningstar Inc.
MARKET UPDATE
[BRIEFING.COM] The stock market began the new trading week on the defensive note with small-cap stocks pacing the retreat. The Russell 2000 (-1.4%) and Nasdaq Composite (-1.1%) displayed relative weakness, while the S&P 500 lost 0.8% with all ten sectors ending in the red.

Global equities began showing some cracks overnight after China's Finance Minister Lou Jiwei poured cold water on hopes for new stimulus measures. Specifically, Mr. Lou said the government has no plans to change ... More
More Market News