The high price of driving while drowsy
About 1 in 24 drivers admit to nodding off at the wheel in the last month. And 100,000 crashes each year are linked to driver fatigue.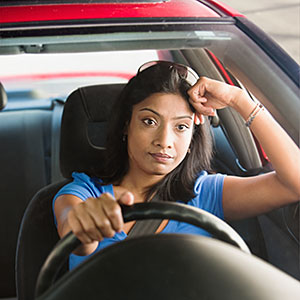 In our caffeine-fueled world, sleep can be more than a luxury. It can be a literal life-saver, especially for the millions of people who get behind the wheel each day.

According to a new study by the U.S. Centers for Disease Control and Prevention, around 4% of drivers -- about 1 in every 24 people surveyed -- admitted to falling asleep or nodding off briefly while driving over the past month.
The survey of more than 147,000 people in 19 states and the District of Columbia had some interesting things to say about our sleep and work habits. Retirees, the unemployed, students and homemakers were less likely to report "drowsy driving" than those who were employed or unable to work.

And not surprisingly, adults who reported insufficient sleep or an average daily sleep of six hours or less were more likely to fall asleep while behind the wheel.
AAA, using National Highway Traffic Safety Administration statistics, estimates 100,000 police-reported crashes are the direct result of driver fatigue each year -- "resulting in an estimated 1,500 deaths, 71,000 injuries, and $12.5 billion in monetary losses."
But there are other studies that blame falling asleep while driving for up to a third of all fatal crashes.

Meanwhile, AAA's Foundation for Traffic Safety lists some specific groups at risk for drowsy driving incidents:
Young people. AAA says sleep-related crashes are most common in young people, "especially those who tend to stay up late, sleep too little, and drive at night -- a dangerous combination."
Shift workers and others working long hours. The human body, according to the National Sleep Foundation, never really adjusts to working outside the normal workday hours -- and notes that round-the-clock work shifts "can wreak havoc on a person's ability to get enough sleep, resulting in poor performance on the job." It can also cause havoc behind the wheel.
Those with undiagnosed or untreated sleep disorders. Tens of millions of people are affected by some form of sleep disorder -- including sleep apnea, narcolepsy and restless leg syndrome -- leaving people with these ailments sleep deprived.

Business travelers. Long hours and the effects of jet lag can leave this group at high risk for sleep-related crashes.

Given America's penchant for sleep deprivation, drivers and law enforcement agree drowsy driving is a real and dangerous trend.
"I have gotten very close to falling asleep and I know a lot of people who say they get very tired while driving," Jackson Tennessee resident Kelsi McNeill told WBBJ-TV.
"It happens too frequently," said Lt. Brad Wilbanks of the Tennessee Highway Patrol. "It's not called for, it's preventable."

Think of it this way: Researchers say being awake for 18 hours can make you as mentally impaired as having a blood alcohol concentration of .05 -- and that 24 hours without sleep is comparable to a concentration of .10. Considering that a .08 blood alcohol concentration is considered legally drunk in all 50 U.S. states, it might be helpful to remember that DWF – driving while fatigued -- can be nearly as lethal as driving under the influence.
More on Money Now

DATA PROVIDERS
Copyright © 2014 Microsoft. All rights reserved.
Fundamental company data and historical chart data provided by Morningstar Inc. Real-time index quotes and delayed quotes supplied by Morningstar Inc. Quotes delayed by up to 15 minutes, except where indicated otherwise. Fund summary, fund performance and dividend data provided by Morningstar Inc. Analyst recommendations provided by Zacks Investment Research. StockScouter data provided by Verus Analytics. IPO data provided by Hoover's Inc. Index membership data provided by Morningstar Inc.
MARKET UPDATE
[BRIEFING.COM] The stock market finished the Tuesday session on the defensive after spending the entire day in a steady retreat. The S&P 500 (-0.6%) posted its third consecutive decline, while the small-cap Russell 2000 (-0.9%) slipped behind the broader market during afternoon action.

Equity indices were pressured from the start following some overnight developments that weighed on sentiment. The market tried to overcome the early weakness, but could not stage a sustained rebound, ... More
More Market News