'The Hobbit' money machine gets cranking
Warner Brothers, Denny's and New Zealand's entire tourism industry have a lot invested in latest Middle-Earth film trilogy.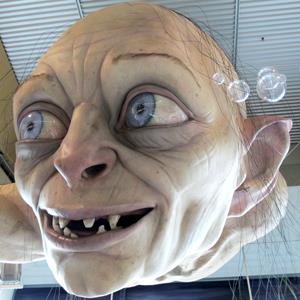 If Middle Earth is just a fantasy anyway, why shouldn't "The Hobbit" and everything surrounding it be made of money?
It's been nine years since director Peter Jackson showed the world his final film installment of J.R.R. Tolkien's "Lord Of The Rings" trilogy, and the moviegoing public's had plenty of time to digest the impact of that film. The trilogy was nominated for 20 Academy Awards and won 17, including all 11 awards "Return Of The King" won in 2004 -- tying "Ben-Hur" and "Titanic" for most of all time. The trilogy brought in $1.03 billion at the U.S. box office alone, with their global take approaching $3 billion.
Now Warner Brothers is cranking up the mythological money machine again as it prepares to release the first film of "The Hobbit" trilogy in the U.S. on Dec. 14. If you're wondering just how big of an economy can be propped up by Bilbo Baggins and his tiny Hobbit friends, just ask Warner Brothers (TWX), Denny's (DENN), Microsoft (MSFT) and New Zealand's tourism department. (Microsoft owns and publishes Money Now, an MSN Money site.)
Warner Brothers merged with "Lord Of The Rings" studio New Line Cinema back in 2008 and took on all the headaches that went with that particular holding. After the first trilogy, New Line was sued by "Lord Of The Rings" actors for their percentage of merchandising rights and by Tolkien's estate for a cut of the billions in box office receipts.
Warner Brothers has been a little tighter with the merchandising rights, restricting toy rights for "The Hobbit" to toymakers Bridge Direct and Lego after doling them out to multiple toymakers for the "Lord Of The Rings" movies. It's also holding keeping Hobbit-themed video games in house with help from Warner Brothers Interactive Entertainment, and releasing games only as online downloads for Microsoft's Xbox 360 and Sony's PlayStation 3.
That's not sitting well with Tolkien's estate, which is suing Warner Brothers for copyright infringement and insisting the film rights it sold in 1969 didn't include electronic or digital rights. The estate seems particularly peeved that Hobbit characters may end up promoting gambling through games in casinos and on online gambling sites.
As it stands, Bilbo, Gandalf and friends are already filling their hours as pitchmen for various other products. Microsoft has licensed several characters from "The Hobbit" trilogy to market Windows 8 devices, though exactly how the company plans on using creatures from the tech-deprived shire to hawk smartphones and apps is still unclear.
Denny's, meanwhile, is capitalizing on the the creatures' notoriously insatiable appetites to push themed menu items that include a "Second Breakfast" that's been making the rounds on YouTube. According to AdAge, tie-ins include "Frodo's Pot Roast Skillet," "Gandalf's Gobble Melt" and other casual dishes inspired by the Hobbits' predisposition toward pre- and post-journey gluttony.
The biggest "Hobbit" gamble of all is being made by New Zealand. Peter Jackson's home country served as the backdrop for the Lord Of The Rings series and is reprising its role for "The Hobbit" films after paying $99 million of the first Hobbit movie's reported $270 million production budget and adding another $10 million to help market the film. Air New Zealand has painted Middle Earth-related images on the side of its planes and made Hobbit-themed safety videos like this YouTube clip part of its pre-flight routine.
How badly does New Zealand want a repeat of the production-site tourism that followed the country's last dalliance with elves, orcs and wizards? So badly that it's tacking New Zealand tourism videos onto the front of every "Hobbit" showing in theaters and onto every "Hobbit" DVD and Blu-ray disc that follows. All together, Tourism New Zealand is throwing 15% of its marketing budget at fans of the diminutive adventurers.
Will New Zealand get the precious tourism returns it's looking for? Tough to say. The first film in the Lord Of The Rings trilogy received 13 Oscar nominations and made more than $1.1 billion worldwide. "The Hobbit: An Unexpected Journey" has that kind of moneymaking potential, but early reports by tracking sites like Movie City News don't have "The Hobbit" anywhere near the Oscar judges' radar. That may change once "The Hobbit" removes its invisibility ring and pops up in theaters everywhere, but Warner Brothers, the Tolkien estate, the film's marketing partners and all of New Zealand will be waiting nervously for their precious returns.
More from Money Now
DATA PROVIDERS
Copyright © 2014 Microsoft. All rights reserved.
Fundamental company data and historical chart data provided by Morningstar Inc. Real-time index quotes and delayed quotes supplied by Morningstar Inc. Quotes delayed by up to 15 minutes, except where indicated otherwise. Fund summary, fund performance and dividend data provided by Morningstar Inc. Analyst recommendations provided by Zacks Investment Research. StockScouter data provided by Verus Analytics. IPO data provided by Hoover's Inc. Index membership data provided by Morningstar Inc.
MARKET UPDATE
[BRIEFING.COM] Equity indices remain near their flat lines as heavily-weighted sectors continue trading in mixed fashion.

At this juncture, the industrial sector (-0.6%) is the weakest performer among cyclical groups with defense contractors pressuring the space. The PHLX Defense Index is lower by 1.1% with just about every component trading lower. Including today's decline, the Defense Index is now down 2.4% for the week and off 0.7% so far in September. On the upside, General ... More
More Market News