Is President Obama gunning for the penny?
The commander in chief expresses support for getting rid of our least-valuable coin, which costs more to produce than it's worth.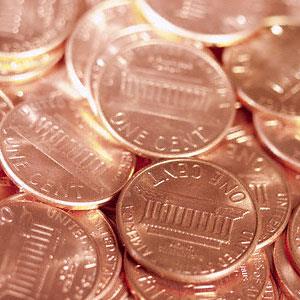 If President Barack Obama has any say in it, the United States is going to lose its cents. 

The subject came up during a Google+ hangout with Obama that was advertised as a "fireside" chat, reminiscent of FDR's famous radio addresses.
One participant asked the president why the U.S. hasn't yet phased out the coin, according to Business Insider.
"I gotta tell you, John, I don't know," Obama replied. "Any time we're spending more money on something that people don't actually use, that's an example of something we should change."
If the U.S. dumps the penny, it would be following its neighbor to the north. The Royal Canadian Mint earlier this month halted distribution of the pennies to banks and other financial institutions, with the goal of eventually phasing out the tiny coin from distribution. The reason? The penny costs Canada 1.6 pennies to make, turning it into a money-losing proposition.
The situation is similar for the U.S., where in 2011 it cost the country 2.4 cents to manufacture each coin. According to a group called the Citizens to Retire the U.S. Penny, the country spent almost $120 million in 2011 to produce $50 million worth of coins. 
Dropping the penny would produce savings, but overall the amount would be tiny compared with the government's $3.5 trillion in annual spending. 
That hasn't escaped Obama's attention. 
"This is not going to be a huge savings for government," he noted on the Google+ hangout. 
Of course, the penny's fate isn't up to Obama. The U.S. Mint, which makes the coins, is a federal agency, and getting rid of the coin would take an act of Congress.
Obama seems to realize that getting rid of the coin wouldn't be easy. 
"One of the things you see chronically in government, it's very hard to get rid of things that don't work so then we can invest in the things that do," he said, according to Business Insider. "So the penny becomes a good metaphor for a lot of the problems that we've got."
More on moneyNOW
DATA PROVIDERS
Copyright © 2014 Microsoft. All rights reserved.
Fundamental company data and historical chart data provided by Morningstar Inc. Real-time index quotes and delayed quotes supplied by Morningstar Inc. Quotes delayed by up to 15 minutes, except where indicated otherwise. Fund summary, fund performance and dividend data provided by Morningstar Inc. Analyst recommendations provided by Zacks Investment Research. StockScouter data provided by Verus Analytics. IPO data provided by Hoover's Inc. Index membership data provided by Morningstar Inc.
MARKET UPDATE
[BRIEFING.COM] S&P futures vs fair value: -5.50. Nasdaq futures vs fair value: -13.00. Nasdaq at... NYSE Adv/Dec 0/0... Nasdaq Adv/Dec 0/0.
More Market News