Platinum rises even as $1 trillion coin rejected
The Treasury and Federal Reserve don't think mining a big platinum coin to get around the debt ceiling is legal, but platinum jumps to $1,660. That decision adds to the risk of an ugly budget fight between Democrats and Republicans.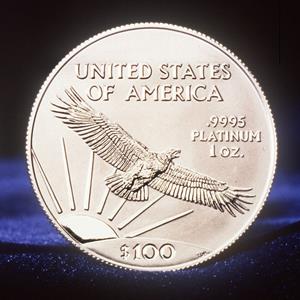 The price of
platinum
(
-PL
) jumped 1.7% to nearly $1,660 an ounce -- a three-month high -- Monday despite the Treasury Department's announcement Saturday it would not mint a $1 trillion platinum coin to get around the nation's debt ceiling.
Platinum settled at $1,658.20 an ounce in New York, up $27.
Not only would the Treasury not mint the coin, a statement said, the Federal Reserve wouldn't accept the coin to back the issuance of new currency.
So that sends the battle over the nation's debt ceiling back the White House and Congress. President Obama vowed Monday that he would not negotiate with Republicans over the federal debt ceiling.
Social Security checks would be delayed, he warned, and the nation could enter a new recession if Republicans do not agree to raise the limit on government borrowing.
"The issue here is whether or not America pays its bills," Obama said at a press conference on Monday, the last of his first term in office. "We are not a deadbeat nation."
And a fight to see who will surrender first be what the Obama administration wants, according to Josh Green of Bloomberg Business.
A shutdown is a possibility perhaps in mid-to-late February. The government has already hit the nation's debt ceiling and is functioning because the law allows "extraordinary measures" to continue to operate.
The platinum coin idea had been chatted about for several weeks. The idea would be for the Treasury to mint a platinum coin (maybe two) with a face amount of $1 trillion. The coin (or coins) would be deposited with the Federal Reserve and could be used to print more dollars and pay off government bills.
The result of the chatter has helped boost platinum speculators. The price is up 7.5% this month alone -- more than gold, more than silver. The price also has risen because of supply shortages in South Africa, the world's leading platinum producer.
The
ETFS Physical Platinum Shares
exchange-traded traded fund (
PPLT
) was up $2.58 to $162.76 and is up 7.5% this month after rising 9.8% in 2011.
More on Money Now
We are not a deadbeat nation but from a technical viewpoint we are past broke. This was not a  problem when we could fine tune some expenditures and modify our tax code and balance it all out. The wage earners cannot out earn this budget deficit in the reality of our economic malaise. Congress will not cut liabilities and the printing press will devalue our currency. Get used to more is less. 

A trillion dollar coin. The neurosis of the liberal mind becomes painfully obvious.Next they will be sporting a trillion dollar bill.
The Fed will print it and begin paying debts with it. Let them try this on China.
When China realized that they had been duped into buying worthless securitized loans which would never be repaid, they demanded the actual property instead. The Chinese were prepared to send their "people" to American shores to seize property as allocated to them through the securitized loan contracts.
During that incident, the US Senate was told emphatically that they had to approve a
or else martial law would be implemented immediately. That money was funneled through the Federal Reserve Bank and wired to China.
Are you sure you want to delete this comment?
DATA PROVIDERS
Copyright © 2014 Microsoft. All rights reserved.
Fundamental company data and historical chart data provided by Morningstar Inc. Real-time index quotes and delayed quotes supplied by Morningstar Inc. Quotes delayed by up to 15 minutes, except where indicated otherwise. Fund summary, fund performance and dividend data provided by Morningstar Inc. Analyst recommendations provided by Zacks Investment Research. StockScouter data provided by Verus Analytics. IPO data provided by Hoover's Inc. Index membership data provided by Morningstar Inc.
MARKET UPDATE
[BRIEFING.COM] The stock market began the new trading week on the defensive note with small-cap stocks pacing the retreat. The Russell 2000 (-1.4%) and Nasdaq Composite (-1.1%) displayed relative weakness, while the S&P 500 lost 0.8% with all ten sectors ending in the red.

Global equities began showing some cracks overnight after China's Finance Minister Lou Jiwei poured cold water on hopes for new stimulus measures. Specifically, Mr. Lou said the government has no plans to change ... More
More Market News