Is homework unfair to low-income children?
France's president says that poorer children suffer because they can't get enough help from parents. But the problem isn't the quantity of work, it's the quality.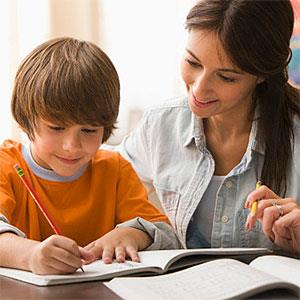 French President Francois Hollande has declared war on homework, arguing that it puts poor kids at a disadvantage because they are less likely to be able to get assistance from parents and other adults. The idea, which has been advocated in the past in the U.S., stands little chance of becoming a reality.
Hollande, who was elected in May, is right that there is an achievement gap between rich and poor students.
The Washington Post
quotes him as saying "work should be done at school, rather than at home." Getting rid of homework, though, will do little to level the academic playing field. In fact, it might make it worse.
"Disadvantaged kids have fewer resources for learning outside school, so removing homework might actually widen the achievement gap, not narrow it," writes Harris Cooper, professor and chair of the Duke University's Department of Psychology and Neuroscience, in an email. "There are much better ways to close the achievement gap."
Evidence abounds that schools are assigning younger students increasing amounts of homework even though experts say it won't lead to higher academic achievement. A study cited by
FamilyEducation.com
found that children age 6-to-8 spend an average of 123 minutes per week on homework, nearly three times the 44-minute average in 1981. This is not the case with older students.  
It's also not how things are done in other parts of the world. For instance, Japan, where students are forced to spend countless hours cramming for high school and college entrance exams, doesn't allow homework for younger students, according to Pennsylvania State University professor Gerald LeTendre. Many parents are not happy that their young kids have so much work to do.
"It takes up a lot of family time," he said. "This is where parents are getting very reactionary and very angry."
Between kindergarten and second grade, it's best that children have no homework. As they get older, they can handle about 10 minutes per day, increasing by 10 minutes per grade. Middle school kids can handle about an hour and half. High schoolers can go even longer depending on their classes, according to Cooper. 
According to data cited by the
National Education Association,
most U.S. students spend less than an hour per day on homework, a statistic that has not changed much over the past 50 years. American kids are in the middle of the pack when it comes to homework when compared with their peers around the world. The problem isn't the quantity of work, it's quality.
There are some U.S. experts who echo Hollande's views. What they fail to realize, however, is that homework, like everything else, is fine in moderation.
--Follow Jonathan Berr on Twitter@jdberr
More from Money Now
MARKET UPDATE
[BRIEFING.COM]
July crude oil traded in negative territory today following China's HSBC Flash Manufacturing PMI data that showed a first contractionary reading in seven months. The energy component dipped to a session low of $92.21 per barrel in morning action but managed to erase most of the earlier losses as prices rallied to a session high of $94.35 per barrel heading into the close. Crude oil settled just 0.1% lower at $94.14 per barrel.
June natural gas opened floor trade in ... More
More Market News
TOP STOCKS
Many signs point to a dollar rally
With Europe mired in recession, China faltering, commodities declining and stocks looking vulnerable, investors seeking safety will look to the greenback.