Boeing reclaims the airliner crown
The company delivers 46 787 Dreamliners, and deliveries beat archrival Airbus overall for the first time since 2002. Analysts see Boeing holding the top position for at least 2 years.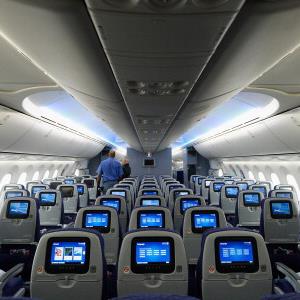 It's been a while, but
Boeing
(
BA
) has become king of the airliner makers again.
The company delivered 601 aircraft in 2012, compared with rival Airbus' 516 deliveries.
Analysts see Boeing holding the leading position for at least two year, largely as it expands deliveries of its 787 Dreamliner.
Boeing delivered 46 Dreamliners in 2012, up from three in 2011, and the aerospace giant plans to expand its production of the planes from two a month to five. That suggests at least 60 deliveries in 2013.
Overall, Boeing expects to build some 660 planes in 2013. Airbus, a subsidiary of
European Aeronautic Defence and Space
(
EADSY
), has said it plans to build some 600 jetliners in 2013.
Boeing's best year for production was 1999, when it was still selling McDonnell-Douglas jets. Production of those aircraft has been halted.Meanwhile, Boeing said net orders climbed 49% to 1,203, led by purchases of single-aisle 737s, which more than doubled as Boeing offered an upgraded version with new engines. The total was the second- largest in the company's history, boosting its backlog to a record 4,373 jets.
Annual orders for 767s, 777s and 787s, all twin-aisle jets, fell from 2011. Dreamliner orders fell by a net 12 as 50 cancellations offset sales of 38.
Production of the 787 was three years behind schedule when the first three planes went into service in 2011. There was issues in on the quality of work by some subcontractors and design flaws to correct. The most recent discovery is a flaw in the plane's fuel lines.
In December, the Federal Aviation Administration warned airlines that improperly assembled parts in the plane could cause the 787 to run out of fuel, experience "engine power loss or shutdown, or leaks on hot engine parts that could lead to a fire."
Output of Airbus' flagship four-engine A380 is sagging as the company fixes a wing-component flaw that has caused cracking in parts of the plane. Airbus delivered 30 A380s in 2012.
Airbus is struggling to get a competitor to the 787, the A350 to market. The first deliveries are expected in 2014. It is also developing a new plane, the A320neo to compete against Boeing's 737 MAX. Airbus is planning to build a U.S. assembly facility in Mobile, Ala., by 2016.
Boeing is the single-largest U.S. exporter. So its prospects have broad effects across the country. The company employs 87,000 workers in the Puget Sound area of Washington State out of a total 171,700 workers. An additional 6,000 work on a 787 production line near Charleston, S.C.
Boeing shares were up 6 cents to $77.53 on Friday afternoon. Early in the day, the shares hit a 52-week high of $78.02. That's still down 28% from its intraday high of $107.83, set on Aug. 25, 2007.
EADS shares closed up 2% to 30.80 euros in Europe. It's close to its all-time closing high of 32 euros in 2005.
Boeing shares gained just 2.7% in 2012. EADS shares rose about 22%.
DATA PROVIDERS
Copyright © 2014 Microsoft. All rights reserved.
Fundamental company data and historical chart data provided by Morningstar Inc. Real-time index quotes and delayed quotes supplied by Morningstar Inc. Quotes delayed by up to 15 minutes, except where indicated otherwise. Fund summary, fund performance and dividend data provided by Morningstar Inc. Analyst recommendations provided by Zacks Investment Research. StockScouter data provided by Verus Analytics. IPO data provided by Hoover's Inc. Index membership data provided by Morningstar Inc.
MARKET UPDATE
[BRIEFING.COM] The S&P 500 trades lower by 0.5% with one hour remaining in the session. The benchmark index is on course to register its third consecutive decline, while widening this week's loss to 1.3%. The Dow and Nasdaq have had a comparable showing with respective week-to-date declines of 1.2% and 1.5%, while the Russell 2000 has been unable to keep up. The small-cap index has given up 0.9% today and is down 2.3% for the week.

Today's session-long weakness has caused ... More
More Market News