GM finally upgrades Silverado, Sierra
Bored carbuyers stalled pickup sales as Ford, Ram and imports trucked away market share.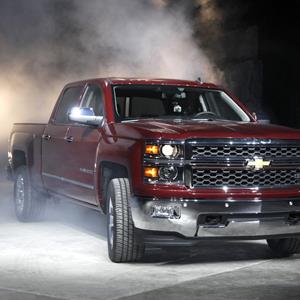 Car buyers have no problem with an old reliable pickup truck in the driveway or garage. A dated model on a new car lot gets much less love.
General Motors (GM) found that out the hard way this year, which is why its Chevrolet Silverado and GMC Sierra are getting a much-needed facelift for their 2014 models. The new models announced Thursday are meaner looking, sleeker and quieter, but just as brawny under the hood. GM starts its new offerings with a 262-horsepower, 4.3-liter V-6 with increased towing capacity before kicking it up to a 325-horsepower, 5.3-liter V-8 with the improved fuel efficiency of GM's muscly Camaro and Cadillac models that far outpaces the current generation's gluttonous 22 miles per gallon on the highway.
A 6.2-liter V-8 engine with 376 horsepower rounds out the new lineup that GM hopes will pull its truck sales out of the ditch. GM's overall truck sales dropped 3.8% in November and are at near-flat 0.9% growth for the year. The Silverado's sales were down more than 10% last month as Ford's (F) 10.6% of the overall truck market eclipsed GM's 10.4% share. Sales of Ford's F-Series trucks are up 11.6% this year, while sales Chrysler's revamped Ram pickup line have accelerated by more than 20%.
The pickup truck market is a bit of a conundrum in this regard. GM notes that pickup owners are reluctant to part with their vehicles as it is, but the economic downturn helped increase the average age of a pickup truck on U.S. roads to 10.4 years. When that decade ends, those pickup buyers don't necessarily like to see new models that look similar to the old beaters they just turned in.
Ford discovered this the hard way two years ago with its light Ford Ranger pickup. Ford made its last major change to the Ranger in 1998 and only tweaked the line for the next 13 years. Sales fell from nearly 350,000 in 1999 to just 55,000 in 2010. They rebounded slightly to 71,000 in 2011, but only because it was the only way loyal Ranger owners could say goodbye after Ford discontinued the line.
The Silverado and Sierra have had similar problems since their last overhaul, and the recession didn't help. When the 2007 line was introduced in 2006, GM's combined sales of the two pickups hit nearly 850,000. That number plunged to 438,000 at the height of the recession in 2009, but even last year's 564,000 is a steep drop from those first-year highs.
Right now, GM has a nearly 140-day supply of its pickups on U.S. lots. That's well over the two-month supply automakers consider ideal and is a damning statement about how much demand for GM's trucks has slipped since increasing more than 10% last year.
Meanwhile, even automakers beyond the Detroit Three are taking a bigger share of the pickup market while GM is stuck in neutral. Toyota (TM) truck sales are up 19.5% on the year as the Japanese automaker continues to gain momentum. Meanwhile, Nissan (NSANY) is moving 19.6% more trucks than it did in 2001, while Honda (HMC) truck sales have advanced 18.9%. Honda and Nissan's combined share of the truck market still doesn't match GM's, but GM is in no mood to let one of its biggest strengths become a weakness.
The company is still digging out from its bankruptcy and ensuing government bailout in 2009. Despite its recent woes, the Silverado is still the No. 2 selling automotive line in the land. It's second only to the Ford F-Series and is outpacing the Ram by more than 140,000 vehicles year to date. By comparison, that disparity is greater than the number of Jeep Grand Cherokees (138,000) Chrysler sold during the same span.
America still loves itself an old pickup; just not when it's investing in a new one.
More from Money Now
DATA PROVIDERS
Copyright © 2014 Microsoft. All rights reserved.
Fundamental company data and historical chart data provided by Morningstar Inc. Real-time index quotes and delayed quotes supplied by Morningstar Inc. Quotes delayed by up to 15 minutes, except where indicated otherwise. Fund summary, fund performance and dividend data provided by Morningstar Inc. Analyst recommendations provided by Zacks Investment Research. StockScouter data provided by Verus Analytics. IPO data provided by Hoover's Inc. Index membership data provided by Morningstar Inc.
MARKET UPDATE
[BRIEFING.COM] The S&P 500 trades lower by 0.4%, while the Russell 2000 (-0.9%) underperforms.

Just reported, existing home sales hit an annualized rate of 5.05 million units in August, while the Briefing.com consensus expected a reading of 5.20 million. The pace for August was up from the prior month's revised rate of 5.14 million units (from 5.15 million). Nasdaq -26.88 at 4552.91... NYSE Adv/Dec 559/2272... Nasdaq Adv/Dec 561/1935.
More Market News