Marijuana delivery lands FedEx in a lawsuit
A Massachusetts woman says after a 7-pound box of pot wrongly came to her house, FedEx gave her address to the drug dealers.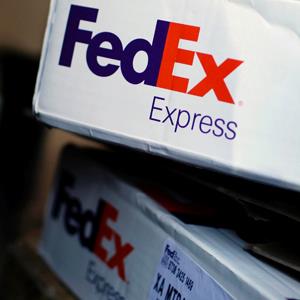 It's one thing to have a seven-pound box of marijuana accidentally shipped to you. It's a far more delicate matter when the shipping company that brought it to your doorstep gives the neighborhood weed dealers your address when they ask where it ended up.
Plymouth, Mass., resident Maryangela Tobin filed a lawsuit against FedEx (FDX) on Feb. 12 after just such a scenario unfolded at her house over a stretch of several days. Tobin's suit alleges FedEx violated state privacy law by handing out her address and that it put her and her two children in danger from drug dealers seeking retribution for their lost stash.
Tobin originally thought the package was a present for her daughter. She told CBS (CBS) Boston it was filled with a thin layer of peppermints over packages of "what we thought was potpourri." She got the first three letters right as Plymouth police identified the contents of the vacuum-sealed bags as pot and called FedEx so it could flag the package.
About an hour later, a man knocked on Tobin's front door asking repeatedly if FedEx had delivered the package. Two of his associates sat behind him in a car parked in her driveway. It doesn't require a viewing of "Gone Baby Gone" to see how this could have ended badly.
Plymouth police have since made an arrest in the case, but Tobin still believes FedEx gave away her address and put her family in danger. The suit claims FedEx disclosed her address "despite explicit Police advisory against such disclosures" and violated Massachusetts privacy laws.
FedEx told The Associated Press it doesn't comment on pending lawsuits. The online marijuana community, meanwhile, doesn't think too highly of shipping any amount of weed in the U.S. TheWeedBlog noted three years ago that the U.S. Postal Service was becoming the delivery method of choice, but it was intercepting increasing amounts of marijuana before the packages reached their intended recipients.
Folks on marijuana forums like Nuggetry and RollItUp responded to an inquiry about shipping weed by calling it a "sketchy thing to do" and "risky," urging people to stick with in-state supplies instead.
In Tobin's case, however, the knowledge that she's dealing with rank amateurs moving weed in one of the worst ways possible was likely little consolation when those folks showed up at her door.

When i opened an account with well-known online stock broker, they gave me a wrong contact phone number. As the result, I reached some XXX services who caller id my home phone and had been giving me call backs offering the services ... quite emberrassing for a man with 16-years of marriage to explain that is not kind of portfolio i was building
Are you sure you want to delete this comment?
DATA PROVIDERS
Copyright © 2014 Microsoft. All rights reserved.
Fundamental company data and historical chart data provided by Morningstar Inc. Real-time index quotes and delayed quotes supplied by Morningstar Inc. Quotes delayed by up to 15 minutes, except where indicated otherwise. Fund summary, fund performance and dividend data provided by Morningstar Inc. Analyst recommendations provided by Zacks Investment Research. StockScouter data provided by Verus Analytics. IPO data provided by Hoover's Inc. Index membership data provided by Morningstar Inc.
MARKET UPDATE
[BRIEFING.COM] The S&P 500 (-0.1%) continues hovering below its flat line, while the Nasdaq (+0.1%) has poked its head into positive territory.

The tech-heavy index has received a measure of support from biotechnology as evidenced by a 0.4% advance in the iShares Nasdaq Biotechnology ETF (IBB 273.52, +0.97%). As for top-weighted components, Apple (AAPL 102.29, +1.23) sports a solid gain of 1.2%, while the likes of Microsoft (MSFT 46.86, -0.20), Intel (INTC ... More
More Market News