Handheld video game systems are hurting
A new Nvidia device enters a shrinking field decimated by smartphones and mobile apps.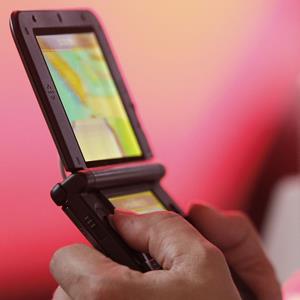 Handheld video-game consoles are dying, but apparently no one has told the companies producing them.
Since 2011, there has been a new portable gaming device released each year by companies like Nintendo and Sony (SNE). During that same span, those devices have been losing the public's interest more quickly than an 8-year-old grows weary of a game of Pong, thanks to the growing smartphone market and a slew of cheap or free mobile-game apps.
That hasn't stopped tech companies from trying, which means 2013 will be Nvidia's year to give casual gamers the handheld consoles they didn't ask for. A press release from the microchip maker announced plans for its Project Shield device that will use a Tegra 4 processor, Google's (GOOG) Android operating system, a high-definition touchscreen and a full-sized controller to stream and play PC games. Judging by early photos leaked to The Verge and elsewhere, Project Shield looks like a Microsoft (MSFT) Xbox 360 controller that decided to go solo.
"We imagined a device that would do for games what the iPod and Kindle have done for music and books, letting us play in a cool new way," Jen-Hsun Huang, chief executive officer at Nvidia, said in the release.
Great, if only that Apple's (AAPL) iProducts and Amazon's (AMZN) Kindle Fire are already doing that for games. Perhaps Nintendo and Sony can give Nvidia some cheat codes to get it to the consumer indifference and disappointing sales sooner.
Nintendo's 3DS is the top-selling handheld device in the U.S. and sold nearly 150,000 units last week alone, according to video game sales tracking site VGChartz. That's a little less than the 170,000 Wii and Wii U home consoles it sold during the same span and just adds to the more than 7.6 million 3DS consoles here since the system was introduced in 2011. All that said, Nintendo is getting hammered by smartphone makers and Apple in particular.
When Nintendo in April reported a nearly $460 million loss for its last fiscal year, its first annual loss in 30 years, its placed blame squarely on the 3DS and spent a chunk of its quarterly report comparing its performance to that of the iPhone. Nintendo originally released the 3DS with a $250 price tag in 2011, but chopped that price by $80 when it became clear that that buyers were passing up the device in favor of $199 smartphones.
That pushed the 3DS' price below the cost of producing the device and still hasn't helped Nintendo in its battle against mobile gaming. Though Nintendo has sold more than 25 million 3DS consoles worldwide since 2011, Apple sold 26.9 million iPhones last quarter alone. Flurry Analytics estimates that Nintendo's share of the handheld gaming market has decreased from 70% in 2009 to just 36% in 2011 as smartphones ballooned from 19% to 58% of the mobile gaming market during the same period.
That's the best gaming companies are doing against their mobile rivals and it doesn't even account for tablets' place in the new handheld gaming market. At the bottom of the pile, the news is far worse. Sony was the last video game maker to attempt a handheld console when it jumped into the market last year with its PlayStation Vita. Billed as the handheld console for hard-core gamers, the Vita was released in the U.S. in February with two versions selling for $250 and $280 apiece.
That same month, the Vita was outsold in Japan by the PlayStation Portable console Sony originally released eight years ago. In the U.S. to date, it's sold only 1.2 million units, which is just 200,000 more than Nintendo's Wii U home console despite a nearly nine-month head start. Sony's handheld consoles rank dead among consoles sold in the U.S. and trail even Nintendo's original DS, which nearly doubled the Vita's sales total last week.
Smartphones and their apps now account for roughly half of all game downloads, and the number of gamers playing on mobile devices just surpassed the number playing on dedicated consoles, according to market research firm NPD Group. Even if Nvidia's handheld is aimed at a niche of hard-core PC gamers who'll pass on free copies of "Temple Run," "Subway Surfers" and "Fruit Ninja," it's still a dedicated gaming device in a mobile world where the console's game is almost over.
More on Money Now

DATA PROVIDERS
Copyright © 2014 Microsoft. All rights reserved.
Fundamental company data and historical chart data provided by Morningstar Inc. Real-time index quotes and delayed quotes supplied by Morningstar Inc. Quotes delayed by up to 15 minutes, except where indicated otherwise. Fund summary, fund performance and dividend data provided by Morningstar Inc. Analyst recommendations provided by Zacks Investment Research. StockScouter data provided by Verus Analytics. IPO data provided by Hoover's Inc. Index membership data provided by Morningstar Inc.
MARKET UPDATE
[BRIEFING.COM] Equity indices remain near their lows with the S&P 500 trading down 0.8%. The consumer discretionary sector (-1.5%) slumped to the bottom of the leaderboard at the start and the growth-sensitive sector remains behind the other nine groups at this juncture.

High-beta names like Amazon.com (AMZN 321.92, -9.40), Netflix (NFLX 439.80, -17.72), and Priceline.com (PCLN 1157.78, -28.34) have contributed to the underperformance with losses ranging from ... More
More Market News