Dogged by SEC, billionaire goes shopping
Steven Cohen's hedge fund is paying $616 million to settle insider-trading claims. And he's on a massive spending spree to boot.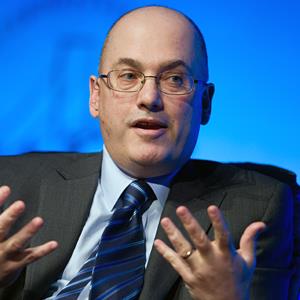 When life gets you down, go shopping. And that's exactly what billionaire Steven Cohen is doing after federal regulators fined his hedge fund $616 million over claims of insider trading.
Cohen hasn't personally been charged with a crime, but the Securities and Exchange Commission is watching his every move. And so he's doing what just about no one else in this situation would do: blowing hundreds of millions of dollars on a massive spending spree.
Cohen, 56, is paying $60 million for an oceanfront mansion on Long Island, The New York Times
reports
. The 10,000-square-foot property is just down the road from a home he already owns. Cohen is also trying to sell his Manhattan apartment for $115 million.
At the same time, Cohen managed to buy a Picasso painting he has coveted for years. He reportedly paid $155 million to take "Le Rêve" off the hands of Steve Wynn, CEO of
Wynn Resorts
(
WYNN
).
Cohen almost bought the painting in 2006 for $139 million, but the deal collapsed after Wynn accidentally put his elbow through it and had to send it to an art restorer, The New Yorker
reported
.
Cohen's troubles with the SEC probably haven't ended, even though his hedge fund,
SAC Capital Advisors
, is paying regulators $616 million to settle insider trading accusations. Since Cohen owns 100% of SAC, the fine is essentially coming out of his pocket, The Times reports. But at a net worth of nearly $10 billion, Cohen will hardly feel the pain.
Some Twitter users are finding his extreme spending, particularly as the SEC shines a bright light on his and his firm's finances, a bit curious.
"Does anyone else think this Steve Cohen spending spree is a bit of a thumb in the eye to the SEC?" asked CNBC blogger John Carney.
Asset manager Jeff Macke referenced the "Marge vs. the Monorail" episode of "The Simpsons," in which a judge fined Mr. Burns $3 million for his unbelievable contempt for human life. "Oh, and I'll take that statue of justice, too," Burns said to the judge, referring to the statue on his desk. "Sold!" the judge responded.

Dude....whatever floats your boat....spend it....as long as it make you feel good inside and something you really have wanted....after all...you worked your
****
off for it.....just like me....I'm not rich by any means but the money I work for is mine to spend on my family or myself as I wish....at least until the government takes it all......

Wow I can't even fathom the amounts he is spending. I have no issue with someone treating themselves well.....but "WHAT!"....Has Mr.Cohen ever done something completely outside the box by giving to a charitable organization say a homeless shelter, a food bank, an orphanage or maybe science to find a cure for cancer,Alzheimer's, Parkinson's, MS, or some rare disease that doesn't reach the majority. I'm not saying he's never done anything charitable, however the truth of the matter is that the average American gives a much higher % of $ to charity compared to the wealthy.  It's a shame! Might I add....how is it that the SEC fined his company millions but he is allowed to keep & clearly spend the ill gotten riches he acquired due to insider trading HIS hedge fund  was party to.  
Are you sure you want to delete this comment?
DATA PROVIDERS
Copyright © 2014 Microsoft. All rights reserved.
Fundamental company data and historical chart data provided by Morningstar Inc. Real-time index quotes and delayed quotes supplied by Morningstar Inc. Quotes delayed by up to 15 minutes, except where indicated otherwise. Fund summary, fund performance and dividend data provided by Morningstar Inc. Analyst recommendations provided by Zacks Investment Research. StockScouter data provided by Verus Analytics. IPO data provided by Hoover's Inc. Index membership data provided by Morningstar Inc.
MARKET UPDATE
[BRIEFING.COM] The S&P 500 (-0.5%) remains pressured as every uptick has been met with selling activity. This morning, the health care sector (-0.6%) was an early source of weakness in reaction to concerns about the impact of new rules on tax inversion deals.

Over the past 30 minutes, Bloomberg reported that Pfizer (PFE 30.01, -0.17) has approached Actavis (ACT 242.88, +7.02) about a potential acquisition. Actavis, which traded with a slim loss ahead of the reports, has ... More
More Market News