Owning a Downton Abbey costs big bucks
You'll pay millions a year just to maintain a sprawling UK mansion. Major renovations could cost much more.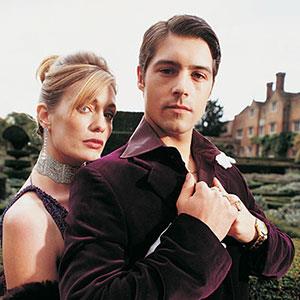 How pricey can it be to maintain a vast English estate? Plenty.
CNBC
calculated
the cost of buying and keeping up a grand property similar to what the Grantham family owns on "Downton Abbey." Maintaining that level of splendor doesn't come cheap.
You can buy some U.K. estates for a pretty sweet deal. Check out the beautiful Apethorpe Hall, which was selling last year for just $4 million,
according to
The Daily Mail. But the place has a few problems, starting with the fact that not one of its 48 rooms has a bathroom. The estate has fallen into disrepair and needs an estimated $6.5 million to return to its previous glory.
For a more manageable mansion, there's Bletchingdon Park in Oxfordshire (
photos here
), which CNBC says has 24,000 square feet and is selling for $52 million.
Buying the estate is the easy part. Paying to maintain it will give anyone heartburn. No wonder Lord Grantham was freaking out about money in the third-season premiere of "Downton Abbey."
Maintaining, say, a 1,500-acre property will require a butler, cook, secretary, groundspeople and cleaning staff, CNBC reports. You may need some gamekeepers if you enjoy hunting. In all, it would cost as much as $1 million a year to employ the necessary staff.
Keeping up with all the regular repairs to the place could easily cost another $100,000 a year. And major renovations after you buy could come to $6 million to $8 million.
In total, you'll need at least $1.5 million a year just to keep the place going.
Might as well buy one of the less stately U.S. castles, which lacks the historical grandeur but at least has a more tolerable price tag. Check out
this list
on Zillow of 10 castles for sale in the U.S., at prices ranging from $1.1 million to $11.4 million.
The real "Downton Abbey" is Highclere Castle, which has hundreds of rooms with walls covered in leather and green silk,
reports
The Boston Globe. It sits on 1,000 acres and has become a major tourist destination.
More on Money Now


Here is the easy solution. It might be better to by a English Country House as a ruined shell like Sutton Scarsdale Hall because at least you know what is in front of you when the house is bare. All that needs to be done is repairs the stonework and make it water proof. The rebuilding will be the hard part. But it would pay off in the long run as there are no surprises to worry about. With an intact house that has lasted for centuries, you don't know what problems lurk behind those walls.  
You couldn't report on the banks and the crap settlement? You couldn't find an article on how we are so frustrated with Washington that I'm sure many Americans want them swimming for their lives in the Potomac with cement shoes. How about the money starting to leak out of the markets and likely headed out of the country? How about how Generation X and Y have been oblivious to the state of the economy and remain deeply in debt in spite of being able to walk away from reasonable homes only to move uptown? How about the fact that Fund Groups are broke from extracting too much in fees and can't fluff your 401K this year with other people's new money because there wasn't any REAL job hiring last year?
The author of THIS stupid article better not be getting paid for it.
Are you sure you want to delete this comment?
DATA PROVIDERS
Copyright © 2014 Microsoft. All rights reserved.
Fundamental company data and historical chart data provided by Morningstar Inc. Real-time index quotes and delayed quotes supplied by Morningstar Inc. Quotes delayed by up to 15 minutes, except where indicated otherwise. Fund summary, fund performance and dividend data provided by Morningstar Inc. Analyst recommendations provided by Zacks Investment Research. StockScouter data provided by Verus Analytics. IPO data provided by Hoover's Inc. Index membership data provided by Morningstar Inc.
MARKET UPDATE
[BRIEFING.COM] The S&P 500 (-0.4%) remains near its low and is facing a bit of a challenge as five sectors display relative weakness, leaving the energy sector (-0.1%) as the top performer. The sector has received a measure of support from crude oil, which is higher by 0.9% at $91.73/bbl.

Elsewhere among commodities, gold futures ended the pit session with a gain of 0.3% at $1222.10/ozt, while silver and copper settled little changed at $17.78/ozt and $3.04/lb, respectively. ... More
More Market News