Bosses say American workers fall short
A new survey finds that most think their employees lack necessary collaborative, communication and critical-thinking skills.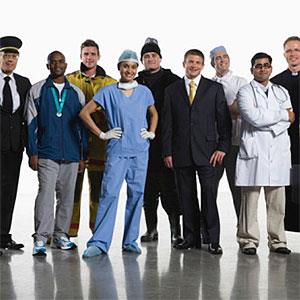 Remember when the American chief executive of tire company Titan International called his French employees "
so-called workers
"?
Ah, silly surrendering socialists, when will they ever learn that . . . wait, it seems American executives think U.S. labor is pretty worthless, too.
In a recent survey by the American Management Association, the nation's bosses and board members made it clear that they believe American workers lack the basic skills necessary for collaboration, communication and critical thinking. The survey suggests about 20% of workers lack even the most rudimentary creative skills, while the number of executives rating their employees as below average has jumped since 2010.
Are any of them bold enough to stop hiding behind their surveys, come out of the boardroom and say it to employees' faces? This is the business world, so of course they are.
"The emphasis over the past years has been on high-tech skills like math and science for workers, but what's missing in the discussion is the ability to communicate and make key decisions at lower levels," Ed Reilly, chief executive of the American Management Association, told CNBC.
Before employees get all worked up, however, it should be noted that the survey respondents didn't just throw some shade at their underlings and walk offstage. They clearly spelled out areas where employees can improve and explained what exactly they're looking for. Basically, they want more "human" from their human resources and for workers to stop acting like the numbers on a balance sheet they turn into at layoff time.
Executives want people who can make decisions, talk and write to their co-workers in ways that are both welcome and easily understood, work well with other people and be innovative and take action on their own when the group is getting too sluggish. When one in five of the people around you uses "I don't know, maybe" as a catch phrase, speaks in clipped phrases like a teenager, treats memos like text messages and is content to zone out once his or her ideas get rejected at a meeting, that tends to drag down performance a bit.
It's also on management to hire those involved folks who weren't exactly in demand when companies were padding the payroll numbers a decade or so ago. While teaching kids to communicate and collaborate early on helps, the survey also suggests, companies have to make an effort to not only find people with those skills but train those who lack them.
The key point is that America's private sector can add all the jobs its wants, but it's going to keep falling behind if its workforce doesn't quickly develop some critical skills.
DATA PROVIDERS
Copyright © 2014 Microsoft. All rights reserved.
Fundamental company data and historical chart data provided by Morningstar Inc. Real-time index quotes and delayed quotes supplied by Morningstar Inc. Quotes delayed by up to 15 minutes, except where indicated otherwise. Fund summary, fund performance and dividend data provided by Morningstar Inc. Analyst recommendations provided by Zacks Investment Research. StockScouter data provided by Verus Analytics. IPO data provided by Hoover's Inc. Index membership data provided by Morningstar Inc.
MARKET UPDATE
[BRIEFING.COM] S&P futures vs fair value: -6.60. Nasdaq futures vs fair value: -14.50. The S&P 500 futures trade seven points below fair value.

Markets across most of Asia ended on a lower note, while Japan's Nikkei was closed for Autumn Equinox.

Economic data was limited:

China's HSBC Manufacturing PMI ticked up to 50.5 from 50.2 (expected 50.0)
Singapore's CPI eased to 0.9% year-over-year (expected 1.2%; previous ... More
More Market News