How Samsung could save Best Buy
The Galaxy maker's mini-stores are drawing customers to the big-box chain, which is good even if they risk stepping on the retailer's relationship with Apple.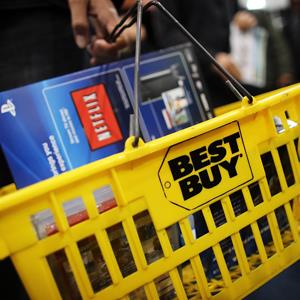 After a management shakeup last fall, a terrible holiday season, a
first-quarter loss
, a questionable
spate of investments
and a shifting consumer culture that's basically turned big-box stores into
showrooms
for online merchants,
Best Buy
(
BBY
) could really use some good news.
Well, it's finally arrived. Best Buy CEO Hubert Joly really likes his chain's
Samsung
Experience mini-stores and wants to expand the concept to other brands and products.
Wait, really? That's what you've got? You hold a conference call with investors on Tuesday telling them that "there will be more" mini-shop sub-branding partnerships in the future, which you hope will drive customer traffic . . . and that's the big reveal? Somebody may not have thought this all the way through.
"We are interested in doing more, and we see it as win-win-win," Joly said. "It's winning for the customers, it's winning for the vendors, and it's winning for Best Buy."
Aren't we leaving somebody out of the "winning" equation there, Charlie Sheen? Oh, that's right, your other mini-store partner, Apple (AAPL).

When the Samsung shops launched in April, they were placed right at the front of Best Buy's big-box stores. Stocked with Samsung phones, laptops, tablets and accessories -- and Samsung consultants who help customers and team with Best Buy's Geek Squad to provide tech support for the Samsung gadgets -- the Samsung shops are basically a huge billboard blocking the Apple shops Best Buy so recently coveted.
Analysts on the conference call took note of this and asked Joly if he thought that giving Samsung preferential treatment would anger Apple and other mini-store partners. Joly's response: "The more traffic attracted to our stores, the better this is for everybody."
Basically, the more space Best Buy can allocate to high-end products from these folks, the less space it has to dedicate to lower-return items like CDs and DVDs -- which basically still occupy floor space for lack of other options. Instead of appearing like a relic of a big-box electronics store, Best Buy would rather serve as a mall for brands or a department store in which individual companies own the departments. Because those concepts aren't dated in the least.
By shoving Samsung and Apple in with existing Best Buy subsections including its Magnolia home theater shops and its Pacific Sales home appliances sections, Best Buy creates a floor space where players like Sony (SNE), Bose, Panasonic, LG and others can carve out their own little niches while inflating Best Buy's margins.
It's hard to blame Best Buy for at least trying this route, as even malls are filling space with individual Apple, Microsoft (MSFT) and Sony shops. Whether this high-margin electronics bazaar draws a few shoppers off line is anyone's guess, but Best Buy has to right the ship somehow. If it can get its partner companies to play along, its sorting scheme and some pricing wiggle room may just compel online consumers to buy products in their big-box showroom. (Microsoft owns and publishes MSN Money.)


If best buy wants to compete, they need to stop charging a consistently higher price for items I can order off the web, pay no tax on, and for the most part, no shipping on.

For example, I can buy a single tablet protective plastic sheet from best buy for around $20 with them "installing" it for about $7, or I can go to amazon and buy a set of 5 of them for $5 and take my chances installing it myself.

I only go to best buy if I need something that cannot wait a few days to get.


Are you sure you want to delete this comment?
DATA PROVIDERS
Copyright © 2014 Microsoft. All rights reserved.
Fundamental company data and historical chart data provided by Morningstar Inc. Real-time index quotes and delayed quotes supplied by Morningstar Inc. Quotes delayed by up to 15 minutes, except where indicated otherwise. Fund summary, fund performance and dividend data provided by Morningstar Inc. Analyst recommendations provided by Zacks Investment Research. StockScouter data provided by Verus Analytics. IPO data provided by Hoover's Inc. Index membership data provided by Morningstar Inc.
MARKET UPDATE
[BRIEFING.COM] The stock market began the new trading week on the defensive note with small-cap stocks pacing the retreat. The Russell 2000 (-1.4%) and Nasdaq Composite (-1.1%) displayed relative weakness, while the S&P 500 lost 0.8% with all ten sectors ending in the red.

Global equities began showing some cracks overnight after China's Finance Minister Lou Jiwei poured cold water on hopes for new stimulus measures. Specifically, Mr. Lou said the government has no plans to change ... More
More Market News