Oklahoma senators change tune on disaster relief
Both lawmakers voted against aid for Superstorm Sandy victims before accepting funds to help their own tornado-ravaged state.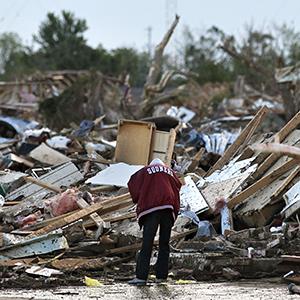 Hey, Sen. James Inhofe, how does that "slush" taste?
Just days after an EF5 tornado tore through Moore, Okla., killed at least 24 people, left thousands homeless and caused roughly $2 billion in damage, Oklahoma's Republican senators found themselves in the awkward position of receiving the kind of federal disaster aid they had argued so vehemently against just months before.

In January, Inhofe and Sen. Tom Coburn both voted against a $60 billion supplemental appropriation bill that was aimed largely at providing relief to victims of Superstorm Sandy, which slammed into coastal New York and New Jersey last year.
The disaster fund, run by the Federal Emergency Management Agency, now has a balance of $11.6 billion, which FEMA spokesman Dan Watson told Reuters is enough to handle immediate response and recovery efforts in Oklahoma and residual costs from Sandy.

That's the same money Inhofe called a "slush fund" when the aid had become entangled in the fiscal cliff budget fight back in January and dwindled to nearly nothing after that prolonged bout of political infighting.
"They had things in the Virgin Islands. They were fixing roads there, they were putting roofs on houses in Washington, D.C. Everybody was getting in and exploiting the tragedy that took place. That won't happen in Oklahoma," Inhofe said on MSNBC after the recent tornado struck.
Unfortunately for Inhofe, as the New York Daily News points out, that just wasn't true. The Sandy relief bill initially contained money for projects outside of areas damaged by Sandy just to get it through Congress, but Republicans in the House of Representatives stripped out that small portion of the bill. The legislation also didn't contain money to put roofs on homes in Washington, D.C., but it did have funds to repair museum roofs damaged by the storm.
Coburn opposed the Sandy relief bill because it wasn't offset by budget cuts elsewhere. He hasn't made similar demands after the Moore tornado, saying only, "As the ranking member of the Senate committee that oversees FEMA, I can assure Oklahomans that any and all available aid will be delivered without delay."
The senators differ from one of their fellow Oklahoma Republicans -- Rep. Tom Cole, whose district bore the brunt of the tornado damage and just experienced its second such storm in 14 years. He voted for the Sandy relief bill after helping trim out many of the add-ons of the original legislation.
DATA PROVIDERS
Copyright © 2014 Microsoft. All rights reserved.
Fundamental company data and historical chart data provided by Morningstar Inc. Real-time index quotes and delayed quotes supplied by Morningstar Inc. Quotes delayed by up to 15 minutes, except where indicated otherwise. Fund summary, fund performance and dividend data provided by Morningstar Inc. Analyst recommendations provided by Zacks Investment Research. StockScouter data provided by Verus Analytics. IPO data provided by Hoover's Inc. Index membership data provided by Morningstar Inc.
MARKET UPDATE
[BRIEFING.COM] Recent action saw the S&P 500 (+0.1%) slip to a session low, while the Nasdaq Composite (-0.1%) is now in the red.

The tech-heavy Nasdaq has trailed the S&P 500 since the start and has been pressured into negative territory by the continued underperformance of chipmaker stocks. The PHLX Semiconductor Index has widened its loss to 0.8% amid weakness in 29 of its 30 components.

Furthermore, the index has also been pressured by the biotech group, which has ... More
More Market News