McDonald's unveils its highest-calorie item ever
The three-quarter pound serving of fries is called the 'Mega Potato' in Japan. It's also the type of gimmick competitors are using to crush the fast-food giant in the US.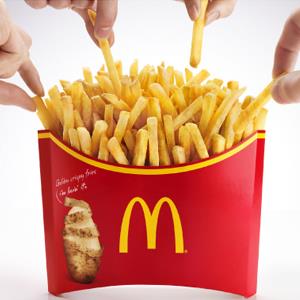 McDonald's
(
MCD
) has had a tough time giving customers what they want when they want it here in the States, but in far less judgmental Japan it has no problem backing a dump truck's worth of french fries onto a customer's tray.
Japan Today notes that McDonald's outlets there are offering customers the Mega Potato, a container of fries double the size of an order of large fries that goes for roughly $5. At 350 grams, it's more than three-quarters of a pound of fries poured into a Golden Arches-stamped cardboard trough that McDonald's has advertised as "perfect for sharing."
The food press has already begun clutching its pearls over the fat content and the potential health consequences of the boat-sized order of fries, which will be available May 24 through June. At an estimated 1,142 calories, it is the highest-calorie food served at McDonald's, reports Muripo.

However, RocketNews24 provides illustrated examples of how customers in Asian countries haven't been opposed to ordering fries by the tableful. Besides, scoffing at this sort of stunt here in the U.S. has started costing McDonald's a chunk of fast-food market share.
Foreign markets tend to bring out the creative side of fast-food giants like Burger King (BKW) and Pizza Hut parent company Yum Brands (YUM). But even stateside, the rise of higher-end fast-casual establishments like Panera Bread (PNRA), Chipotle Mexican Grill (CMG) and Five Guys have forced fast-food chains to abandon upmarket options and play to their strengths. Taco Bell is offering Waffle Tacos as part of a new breakfast menu and testing a new value menu packed with $1 items. Burger King, meanwhile, is basically cloning the McRib boneless rib sandwich while offering delivery service in major cities.
Even lower-tier chains like Del Taco are spicing up their menus with offerings including Chili Cheese Fry burritos.
After years of success emulating Starbucks (SBUX) coffee and Jamba Juice (JMBA) smoothies, however, McDonald's has been forced into a full retreat. McDonald's first-quarter same-store sales were off 1% worldwide. Its menu, which Businessweek says has grown 70% since 2007 to 145 items, is getting a much-needed trim. Angus burgers, Chicken Selects, fish bites, burritos and premium items that franchise owners say are slowing down their kitchens are being shown the door in favor of an enhanced dollar menu.
Yet the chain still hasn't quite backed off its all-things-to-all-pe​ople U.S. approach. In China, McDonald's customers get free Egg McMuffins if there's even a chance the press might say something unkind about the chain. In Japan, McDonald's serves canoes full of fries without a whole lot of backlash over the consequences. In the U.S., it hesitantly hints at all-day breakfast and trots out the McRib only when sales numbers are at their softest.
McDonald's fries are a staple and one of the primary reasons that customers who disdain other McDonald's items will still drop in on rare occasions. Providing customers with more of them -- and more of the rare breakfast items that are hurled off the production line at the stroke of 10:30 a.m. -- is only giving them more of what they're seeking. McDonald's critics will pound away at it regardless of how broad it tries to make its menu. Its core consumers, as the company is discovering in Japan, just want more of what they crave.
At some point, maybe McDonald's will stop placating its critics and start rewarding its loyalists. Yes, they want fries with that.
DATA PROVIDERS
Copyright © 2014 Microsoft. All rights reserved.
Fundamental company data and historical chart data provided by Morningstar Inc. Real-time index quotes and delayed quotes supplied by Morningstar Inc. Quotes delayed by up to 15 minutes, except where indicated otherwise. Fund summary, fund performance and dividend data provided by Morningstar Inc. Analyst recommendations provided by Zacks Investment Research. StockScouter data provided by Verus Analytics. IPO data provided by Hoover's Inc. Index membership data provided by Morningstar Inc.
MARKET UPDATE
[BRIEFING.COM] The stock market began the new week on a cautious note. The S&P 500 lost 0.3%, but managed to erase more than half of its opening decline. Thanks to the rebound, the benchmark index reclaimed its 50-day moving average (1976.78) after slipping below that level in the morning.

Equities slumped at the open amid a couple global developments that dampened the overall risk appetite. Continued student protests in Hong Kong and a potential response from China weighed on the ... More
More Market News