Red Robin testing $15 Kobe beef burger
The casual dining chain is hoping to hike sales by offering premium burgers, with a rollout eyed for later this year.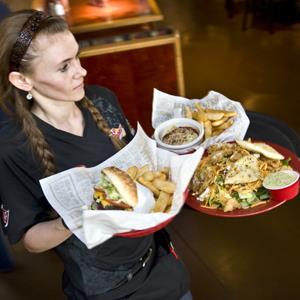 While some restaurants and fast-food chains are slashing prices to entice diners, Red Robin Gourmet Burgers (RRGB) is testing a novel idea: a line of premium burgers that would include Kobe beef and potentially bison. 

The burgers may appear on the chain's menu in the second half of 2013, Chief Executive Stephen Carley said at an investor conference last week, according to Nation's Restaurant News.
The big question, Carley said, is what diners want in a premium burger, and "what guests are prepared to pay a premium for."
The new dishes won't come cheap: one Wall Street analyst said he expects the new burgers to be priced as high as $15. 
That would mean a single Kobe burger -- even before taxes and tip -- would cost the average American about 10% of his or her weekly food expenditures. The typical consumer spends $151 on food each week, according a study from Gallup last year.
Kobe beef means a specific breed of cattle raised around Kobe, Japan, which is known for tenderness and flavor. Most beef advertised in the United States as "Kobe" actually isn't, but instead comes from other regions of Japan or America. 
Nevertheless, it's become a byword for high-quality beef and has found its way onto the menus of both high-end restaurants and casual dining chains, including the Cheesecake Factory, which sells an "American Kobe beef" burger for about $13.95. 
Red Robin has grown into a chain of 470 restaurants by offering a range of fire-grilled beef hamburgers and chicken burgers, which generally cost from about $7 to $10. 
While it may be a gamble that diners will pay more for food, some restaurant chains are making that bet, given the creeping cost of ingredients. 
Wendy's (WEN) earlier this month said it would change its value menu offerings, because selling items for 99 cents was leading to losses. Last week, Chipotle Mexican Grill (CMG) hinted at higher prices to cope with faster-than-expected​ food inflation.
More on Money Now
DATA PROVIDERS
Copyright © 2014 Microsoft. All rights reserved.
Fundamental company data and historical chart data provided by Morningstar Inc. Real-time index quotes and delayed quotes supplied by Morningstar Inc. Quotes delayed by up to 15 minutes, except where indicated otherwise. Fund summary, fund performance and dividend data provided by Morningstar Inc. Analyst recommendations provided by Zacks Investment Research. StockScouter data provided by Verus Analytics. IPO data provided by Hoover's Inc. Index membership data provided by Morningstar Inc.
MARKET UPDATE
[BRIEFING.COM] S&P futures vs fair value: -6.30. Nasdaq futures vs fair value: -14.80. U.S. equity futures trade hover near their pre-market lows amid cautious action overseas. The S&P 500 futures hover six points below fair value, which puts the benchmark index on track to continue its retreat after losing 0.8% yesterday.

Overnight, markets in Asia traded in mixed fashion, but sentiment worsened after the start of the European session, where all the key indices hold losses ... More
More Market News