Big banks head for a hard, less-profitable future
Stiffer competition and more regulations mean global financial institutions have to make tough choices to survive.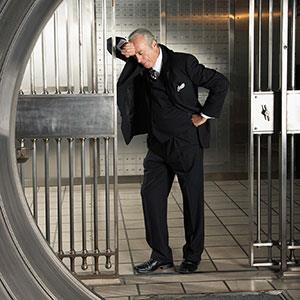 Is the party over for the current version of big banks, the ones known as "too big to fail"? That's the conclusion of a new report by Boston Consulting Group called "Survival of the Fittest: Global Capital Markets 2013."
The report says the days of after-tax return on equity (ROE) at levels of 15% to 20% are gone as banks face more competition and growing regulatory restraints. And that means the big financial institutions have to review and revamp their operating models if they plan to achieve even ROEs of just 12%, which the report says is the minimum investors require.
Looking at a sample of 28 banks, BCG says overall industry revenue rose around 2% last year compared with declines of 13% in 2011 and 23% in 2010.
"The capital markets and investment banking (CMIB) industry is in the midst of a multiyear transformation that necessitates tough strategic choices," Philippe Morel, a BCG senior partner and the report's co-author, said in a press statement.

"Although the market for its services will remain vital, the value that banks will be able to capture will continue to shrink," he added. "Some players may be forced to exit the industry entirely, and many more will leave certain asset classes or gradually reduce their exposure and investments in unprofitable areas."
The report says banks are "making rapid progress" with the new regulatory requirements and many have reached the Basel III goals created to make sure global banks have enough capital to get through economic downturns. But that compliance, it says, "is being achieved at the expense of ROE. And the impact of regulation varies by asset class."
The report also points to six business models the CMIB industry will have to embrace to succeed, as the banking industry shakes itself out:
Powerhouses: The largest capital markets players, with dominant share in one or more asset classes.

Haute couture: Institutions that focus on sophisticated products for hedge funds, private banks and sovereign wealth funds.

Relationship experts: This group works with local and very specific information to establish long-term ties to its clients, who are usually corporate or small to midsize financial institutions.

Advisory specialists: As the name implies, they "provide premium advice to their clients' top management, particularly in M&A and capital structuring."

Hedge funds: This model needs both "scale to develop market depth -- and adequate capital to absorb market and credit risk. They must possess sufficient agility in the back office and in (information technology) infrastructure to take on new products and asset classes within short time frames."

Utility providers: Being outside the core CMIB businesses, this group works with investment banks to reduce costs via info tech, operational and possibly accounting services.
But Boston Consulting Group warns that these business models aren't interchangeable.

"A relationship expert cannot suddenly decide to become a powerhouse any more than haute couture players can suddenly become hedge funds," said Morel.

"And institutions will have to operate within the economics and risk profiles that are acceptable to their shareholders. But within the limits of the paths that each player can reasonably pursue, there are still tough decisions to make -- and they will have to be made."
DATA PROVIDERS
Copyright © 2014 Microsoft. All rights reserved.
Fundamental company data and historical chart data provided by Morningstar Inc. Real-time index quotes and delayed quotes supplied by Morningstar Inc. Quotes delayed by up to 15 minutes, except where indicated otherwise. Fund summary, fund performance and dividend data provided by Morningstar Inc. Analyst recommendations provided by Zacks Investment Research. StockScouter data provided by Verus Analytics. IPO data provided by Hoover's Inc. Index membership data provided by Morningstar Inc.
MARKET UPDATE
[BRIEFING.COM] Equity indices continue holding modest losses after making a short-lived appearance in the green. The S&P 500 trades lower by three points, while the remaining indices display comparable losses.

The health care sector (-0.3%) began the session at the bottom of the leaderboard, but the top-weighted countercyclical group has reclaimed more than half of the early slip. However, other influential sectors like consumer discretionary (-0.3%) and industrials (-0.4%) remain ... More
More Market News