The $100 carry-on fee takes hold
Frontier Airlines joins the trend and also adds a $2 charge for coffee or soda.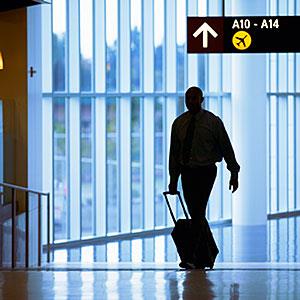 Frontier Airlines
customers, start planning ahead. If you get to the boarding gate without telling the airline about your carry-on bag, you'll pay a $100 fee.
The airline said this week that customers paying in advance will get charged $25 if their carry-on bag goes to the overhead bin. For those who wait to pay until they're at the gate, the fee leaps to $100. Small bags can still be stowed under the seat free. The move follows
a similar announcement
by Florida's
Spirit Airlines
last year.
Allegiant Air
also charges for carry-ons,
according to
The Associated Press.
The feeling at the companies appears to be the same. They don't really want to anger customers this way. But as airlines nearly across the board have piled on fees for checked luggage, customers have begun toting massive carry-on bags to the gate. That clogs up the boarding process, delays departures and makes just about everyone crazy.
You can escape the fee by purchasing your tickets on Frontier's website.
Frontier says it will also begin charging $2 for coffee, tea, soda and juice, according to the AP. On the plus side, you get to keep the whole soda can and you get unlimited coffee refills.
It may be no surprise, then, that Frontier's revenue fell by 9% and its flying capacity fell by 13% in the first quarter, the AP reports. Its trying to be sold by its corporate parent, but if angry customers continue to drop off, there may not be much to sell in the end.

Frontier, Please note..I remember you when you were Midwest Airlines..there was no better airline..then you became Frontier and nothing was the same but I continued to fly you to Kansas city..then you cancelled your direct flights to Kansas City making me fly to Denver and connect in Denver to Kansas City..and still I continued to fly..then I couldn't get assigned seats and forfeited my frequent flyer miles if I used a travel website to book and purchase a ticket..well, you won't have to hit me over the head any more..it's clear flying passengers is not your goal..you're not Spirit Airlines..so I have already booked my last Frontier flight..seems that you won't miss me anyhow..if your goal is to sell yourself I agree with the writer that as many of us depart from your unfriendly skies there won't probably be much left to sell.

Another airline I WON'T be flying.  Are you taking note Spirit! Air?    To charge people to carry on a bag is ridiculous.  I can understand the checked bag fee, it takes manpower to make sure that bag is loaded and gets on the right plane.  But it costs them nothing to have me bring my bag on.  I don't bring more than 30lbs on and with my bag I still come in under 250lbs, a lot less than most of the fat asses flying today!
The $2 for a soda is a bit steep seeing as I can't bring anything past security.  But it's understandable.  I think $1 would be more reasonable.  
More reason to fly Southwest!

The government deregulation has destroyed service in this industry. They allow excessive fees and the consumer to be gouged. The service is gone. I witnessed an attendant accost a 2 million annually mile member verbally just because he asked a question. He went off nastily. Then he sent his pal back who the gentleman asked what was the other attendant's name he said why? Flier said so I can report him. The 2nd attendant then said what is your name, flier said why he said so we can report you. The flyer was calm and appalled as was I we were in First class paid huge for seats. The guy said they know I no alternative. That is what this has come to. No alternative! PAy or drive and they know it. Snide, snooty, high fee services, but when they lose the bag you paid $100 to check, you do not get the $100 back....just the bag 2 days later. and a $25 coupon off your next outrageously priced flight. Look at fees to change tickets...WTF? More than a flight cists and it is don electronically. The government is failing the people!

Personally I'm glad they are doing this.  I check my bag but I have watched time after time people carrying a oversized carry on, briefcase and suit bag and think it's perfectly fine to take someone elses spot in the overhead bin or if there winds up not being enough room they get to check their bag for free.  If I have to pay so should they.  YEA for Frontier.  Now - please come back to Wichita. 
Are you sure you want to delete this comment?
DATA PROVIDERS
Copyright © 2014 Microsoft. All rights reserved.
Fundamental company data and historical chart data provided by Morningstar Inc. Real-time index quotes and delayed quotes supplied by Morningstar Inc. Quotes delayed by up to 15 minutes, except where indicated otherwise. Fund summary, fund performance and dividend data provided by Morningstar Inc. Analyst recommendations provided by Zacks Investment Research. StockScouter data provided by Verus Analytics. IPO data provided by Hoover's Inc. Index membership data provided by Morningstar Inc.
MARKET UPDATE
[BRIEFING.COM] The stock market finished an upbeat week on a mixed note. The S&P 500 shed less than a point, ending the week higher by 1.3%, while the Dow Jones Industrial Average (+0.1%) cemented a 1.7% advance for the week. High-beta names underperformed, which weighed on the Nasdaq Composite (-0.3%) and the Russell 2000 (-1.3%).

Equity indices displayed strength in the early going with the S&P 500 tagging the 2,019 level during the opening 30 minutes of the action. However, ... More
More Market News