Google exec's 'very strange' North Korea trip
The search company's executive chairman, Eric Schmidt, and his daughter shed some light on their journey to the secretive dictatorship.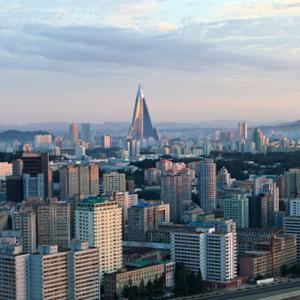 When Google (GOOG) executive chairman Eric Schmidt said he would be traveling to secretive North Korea, some wondered at his motives: Was it business related, or were there other purposes for the trip?

Schmidt and his daughter Sophie, who accompanied him on the trip, have returned and posted details about what they saw and why they joined the first American delegation to the Democratic People's Republic of Korea in over a year. 
In a Google Plus post, Schmidt writes that the journey was a "private visit" to discuss the "free and open Internet." 
"The North Koreans showed up, listened to us and asked us a lot of questions," Schmidt continues. "Overall, the technology in North Korea is very limited right now."
Limited might not be the word most people would settle on, after taking a gander at his daughter's more candid post -- which includes some fantastic photos -- about their trip. "Bizarre" might be a more fitting term.
"Go to North Korea if you can," she writes. "It is very, very strange."

On a visit to the Kim Il Sung University e-Library, "or as I like to call it, the e-Potemkin Village," she writes, the group peeked in on North Koreans sitting at about 90 desks topped with computers. 
The problem? "No one was actually doing anything. A few scrolled or clicked, but the rest just stared. More disturbing: When our group walked in -- a noisy bunch, with media in tow -- not one of them looked up from their desks," she writes. "They might as well have been figurines."
The group didn't know exactly what they were seeing, she adds. "Were they really students? Did our handlers honestly think we bought it? Did they even care?," Schmidt continues.

Meanwhile, the Schmidts traveled without their own computers or phones, which they had left behind in China after being warned the devices would be confiscated in North Korea. They were accompanied by North Korean minders -- two, so that one could mind the other one. 
Even basic technology, such as electricity, was iffy, according to her account of a trip through Pyongyang's metro system. 
"In a fantastic bit of timing, as we exited the train, the station's power cut out," she writes. "The commuters around us immediately pulled out flashlights, which they presumably carry all the time. Can't win 'em all, minders."

Eric Schmidt writes that he made it clear to North Korea's government that their decision to be "virtually isolated is very much going to affect their physical world and their economic growth." Catching up economically will become harder, he points out. 
He concludes, "They have to make it possible for people to use the Internet, which the government of North Korea has not yet done. It is their choice now, and in my view, it's time for them to start, or they will remain behind."
More on Money Now
DATA PROVIDERS
Copyright © 2014 Microsoft. All rights reserved.
Fundamental company data and historical chart data provided by Morningstar Inc. Real-time index quotes and delayed quotes supplied by Morningstar Inc. Quotes delayed by up to 15 minutes, except where indicated otherwise. Fund summary, fund performance and dividend data provided by Morningstar Inc. Analyst recommendations provided by Zacks Investment Research. StockScouter data provided by Verus Analytics. IPO data provided by Hoover's Inc. Index membership data provided by Morningstar Inc.
MARKET UPDATE
[BRIEFING.COM] The S&P 500 (-0.5%) remains pressured as every uptick has been met with selling activity. This morning, the health care sector (-0.6%) was an early source of weakness in reaction to concerns about the impact of new rules on tax inversion deals.

Over the past 30 minutes, Bloomberg reported that Pfizer (PFE 30.01, -0.17) has approached Actavis (ACT 242.88, +7.02) about a potential acquisition. Actavis, which traded with a slim loss ahead of the reports, has ... More
More Market News