GOP to vote on temporary debt ceiling hike
Departing from an earlier stance that appeared willing to see a government shutdown, Republican leaders are now looking for breathing room with an extension.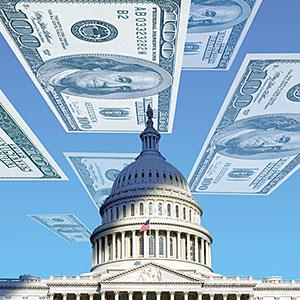 Republicans in the House of Representatives are moving ahead on a bill that would raise the debt ceiling for just three months, Politico
reports
. The proposal will come to a vote next week.
It was an expected turn of events in the ongoing drama over federal spending that has sharply divided Republicans and Democrats. The bill also has an unusual twist: It proposes to stop paying lawmakers if the House and Senate don't pass a budget.
The strategy is to shift blame to the Senate, Politico reports.
Republicans have been signaling a willingness to raise the debt ceiling to avoid sending the U.S. economy into turmoil. John Cornyn, the Republican Senate Minority whip, sounded sure about the matter Thursday when he spoke to the Houston Chronicle's editorial board. "We will raise the debt ceiling. We're not going to default on our debt," he said,
according
to Politico. "I will tell you unequivocally, we're not going to default."
This seems to be in direct contrast to what Republicans were saying earlier this month. Some lawmakers appeared ready for a government shutdown if spending cuts were not approved. But big business has chimed in, saying there's no way the government should run out of cash and shut down. Even Republican leaders acknowledge a shutdown could be very damaging.
A short extension on the debt ceiling would give GOP leaders time to fight for deep spending cuts. Many cuts are slated to kick in March 1, and leaders of both parties are scrambling to pull those back in favor of better-crafted alternative plans.
The click is ticking, however, Congress must raise the $16.4 trillion debt ceiling by mid-February to early March or the government will run out of cash.
More on Money Now
DATA PROVIDERS
Copyright © 2014 Microsoft. All rights reserved.
Fundamental company data and historical chart data provided by Morningstar Inc. Real-time index quotes and delayed quotes supplied by Morningstar Inc. Quotes delayed by up to 15 minutes, except where indicated otherwise. Fund summary, fund performance and dividend data provided by Morningstar Inc. Analyst recommendations provided by Zacks Investment Research. StockScouter data provided by Verus Analytics. IPO data provided by Hoover's Inc. Index membership data provided by Morningstar Inc.
MARKET UPDATE
[BRIEFING.COM]
Precious metals fell in electronic trade yesterday following the FOMC statement which conveyed no changes to the Fed's current policy course. As expected, the FOMC reduced the monthly pace of tis asset purchases by $10 bln to $15 bln and maintained the "considerable time" language in its forward guidance.
Dec gold continued to trade lower and fell as low as $1216.30 per ounce in overnight trade, its lowest level since January. It managed to inch slightly ... More
More Market News