Which parent is working more?
Bureau of Labor Statistics data show some intriguing trends, but they don't get to the heart of the real question: Why do moms earn less?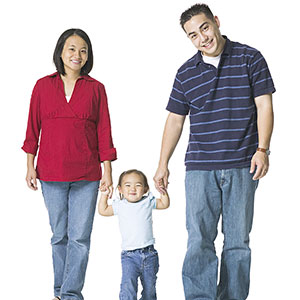 Don't worry, kids. These charts from
CNNMoney
show how hard your parents are working and who you should thank for those daily meals and summer trips.
Using Bureau of Labor Statistics data, the site discovered that a full 59% of American households have both parents working. If you're big on "normal," those two incomes are what "normal" looks like for the average family these days.
Families in which only the father works represent roughly 31% of all homes with married families, while mothers alone shoulder the load in 6.5% of those homes. The more troubling statistic is the 3.7% of families in which neither parent works. That trails the current overall unemployment rate of 7.6%, but it provides some insight into trends tucked more deeply within the BLS numbers.
Staying home with the kids is a luxury fewer parents can afford, with 39% of mothers with children age 3 or younger working full-time, while 16% work at least part-time. A full 6% of mothers stay home simply because they don't have a job. If given the option, their preference would be to go to work.
On the opposite end of the spectrum are the 39% of mothers with young children who are completely disinclined to either join or rejoin the workforce.
But what about single-parent households? Surely, it must be a bit different when only one income is paying everyone's way? A full 82% of employed single fathers would know about that, as do 69% of single mothers.
But the question above CNNMoney's charts is "Who brings home the bacon: Mom or Dad?" The answer: Why is that the question? Never mind that the query dismisses same-sex couples outright -- as charts based on the BLS numbers would because the government fails to recognize same-sex marriages and, by extension, same-sex parents.

The question also assumes that far larger factors than simply employment aren't also at play when it comes to earning potential and bacon-bringing.
Because they're typically paid 22.6% less than their male counterparts in the same jobs, women are basically forced to work 59 days for free each year. According to the Democratic Policy and Communications Center, women make $434,000 less than men on average over the course of their careers.

That starts right after college. Congress' joint economic committee says women make $7,600 less than men immediately following graduation. That trend continues to the latter stages of their careers, when Catalyst says women make up just 6.2% of top earners. New legislation should close that gender pay gap, but the Institute for Women's Policy Research says that won't happen until 2056 at this rate.
Even when women do level the playing field, it doesn't offer them the same options as men. In fact, women are 24% less likely to get a mortgage loan than men. Don't start asking who's bringing home the bacon when one group is getting pounds of ham while the other gets a bag of pork rinds.
DATA PROVIDERS
Copyright © 2014 Microsoft. All rights reserved.
Fundamental company data and historical chart data provided by Morningstar Inc. Real-time index quotes and delayed quotes supplied by Morningstar Inc. Quotes delayed by up to 15 minutes, except where indicated otherwise. Fund summary, fund performance and dividend data provided by Morningstar Inc. Analyst recommendations provided by Zacks Investment Research. StockScouter data provided by Verus Analytics. IPO data provided by Hoover's Inc. Index membership data provided by Morningstar Inc.
MARKET UPDATE
[BRIEFING.COM] The stock market began the new trading week on the defensive note with small-cap stocks pacing the retreat. The Russell 2000 (-1.4%) and Nasdaq Composite (-1.1%) displayed relative weakness, while the S&P 500 lost 0.8% with all ten sectors ending in the red.

Global equities began showing some cracks overnight after China's Finance Minister Lou Jiwei poured cold water on hopes for new stimulus measures. Specifically, Mr. Lou said the government has no plans to change ... More
More Market News