Boeing gambles on risky Dreamliner batteries
The lithium-ion power supplies that are causing headaches for the new 787 jet have a history of overheating in cellphones, laptops and other electronic devices.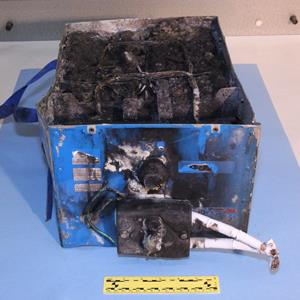 The lithium-ion batteries that are causing major troubles for the new Boeing (BA) 787 Dreamliner have been in use commercially for over two decades. 

Lightweight, rechargeable and very efficient, they power our cellphones, cameras, laptop computers and many other electronic devices. Larger versions of the batteries are helping to power some hybrid cars. And Boeing, according to the Seattle Times, is the first company "to use lithium-ion technology for the main batteries in a commercial airplane."
But researchers, manufacturers and consumers are all aware that lithium-ion batteries are far from perfect and can be hazardous.
The image at left shows what remains of the lithium-ion battery, part of an auxiliary power unit on a Boeing 787, that burned last week while on the tarmac at Boston's Logan International Airport.

Here are some other, recent examples of lithium-ion battery mishaps:

Sanyo, now a subsidiary of Panasonic (PCRFF), recalled 1.3 million cellphone batteries in 2006 on concerns those batteries could overheat or catch fire.

In 2007, Nokia (NOK) offered to replace 46 million mobile phone batteries manufactured by another company due to overheating risks.
And in 2011, Hewlett-Packard (HPQ) recalled more than 162,000 lithium-ion batteries for some of its laptop computers, over concerns they posed "fire and burn hazards to consumers."
Lithium-ion batteries have also been making sectors of the aviation industry very nervous for years now.

Germany's Spiegel Online says there have been numerous incidents of laptops and cell phones burning during flights. And since 1991, according to the website, the U.S. Federal Aviation Administration "has listed a whopping 132 such cases with this kind of battery, some of which set entire cargo compartments [of airplanes] on fire."
For its part, the FAA no longer allows lithium-ion batteries to be transported as cargo on passenger aircraft.

In fact, air carriers like United (UAL) are following Department of Transportation guidelines and advising passengers to not pack loose lithium batteries in checked luggage -- that is, batteries that aren't already installed in electronic devices -- or to bring spare lithium-ion batteries in carry-ons.
So are lithium-ion batteries ready for prime time when it comes to the unforgiving world of aviation and commercial aircraft?
Jonathan Posner, an associate professor of mechanical engineering at the University of Washington, tells the Seattle Times that while research on lithium-ion batteries continues, the technology is a "logical choice" for the 787.

"I don't think Boeing would have used it if it wasn't mature," he said. For his part, Posner believes the Dreamliner's woes might come from "an engineering issue that just has to be resolved. But I would be surprised if they don't continue to use lithium-ion batteries in the 787."

But experts in the field of advanced battery technology say the use of liquid electrolytes in the current lithium-ion batteries remains a safety issue to be resolved. 
Derek Johnson, director of engineering and technology development at Prieto Battery in Fort Collins, Colo., says the development of a safer, solid-state and commercially viable version of the lithium-ion battery is "still in its infancy" -- and that it may take several years before a prototype solid-state battery is available.
More on Money Now
About moneyNOW
MoneyNOW brings users smart, original and entertaining takes on the latest business and investing topics that are buzzing on the Web.
MARKET UPDATE
[BRIEFING.COM] The major averages continue to trade near their recent levels as today's session enters its final hour.

In the foreign exchange market, the Dollar Index remains in negative territory as a sleepy session drifts towards the finish line. Today's action has been limited to a 30 cent range, with current trade taking place near the middle of the range at 83.60. The Swiss franc and the Japanese yen have been the biggest beneficiaries of today's dollar weakness.

The USDCHF ... More
More Market News
TOP STOCKS
Shell out now for Shell
It will benefit big time from rising natural gas prices and the shale boom, pays a generous dividend, and is a bargain compared to its peers.