Feral pigs run hog wild across the US
The feds and some states are fighting an exploding population that wreaks $1.5 billion in damage to crops and livestock each year.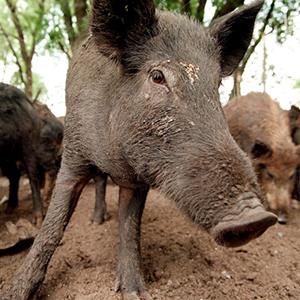 Note to America's feral hogs: It's on. The feds and some state governments, fed up with your harming livestock, trashing crops and endangering humans, are out to get you.
The issue of feral swine -- some of them weighing in at 300 pounds and more -- tearing up crops has been a concern for years in many Southern states. It's also spawned some popular cable TV reality shows about folks who hunt wild hogs for fun and profit.
But it's not a matter of fun and games for the ag sector's bottom line. The New York Times says the wild pig population in the U.S. has exploded since the 1990s -- with "established populations" of about 6 million pigs in 38 states and swine sightings in nine more.
Feral hogs are to blame for more than $1.5 billion each year in agricultural damage. And the problem has become so serious, according to The Times, that the Department of Agriculture is requesting an additional $20 million in next year's budget -- targeted specifically at stopping the pigs.
Wild hogs are a far cry from the cute pigs you might see down at the petting farm, in both size and temperament. While some have ancestors that may have escaped from domestic captivity, others are descendants of Russian wild boars and other invasive species -- thought to have gotten away from game ranches or hunters who brought them in for sport. They also carry a variety of diseases.
And while most of the hogs are very shy, there have been numerous reports of them attacking people. In fact, according to the Texas A&M AgriLife Extension website, "U.S. newspapers report from five to seven human fatalities each year" from such encounters. That puts the hogs among some dangerous company: Shark attacks accounted for seven deaths worldwide in 2012, according to the University of Florida.
Damage caused by the estimated 2 million feral hogs in Texas alone costs about $52 million in agricultural losses annually. The Lone Star State has budgeted $7 million this year toward the problem.
Texas also allows year-round hunting, trapping and snaring of the wild hogs in an effort to control the population. Some guides even take tourists on nighttime "safaris," hunting the swine using night-vision goggles.
"For us it's just numbers," Jeb Dreher, co-owner of an operation called Tactical Hog Control, told KHOU-TV. "The more we harvest, or exterminate, whatever word you want to use, the better chances we have of keeping the numbers in check."
DATA PROVIDERS
Copyright © 2014 Microsoft. All rights reserved.
Fundamental company data and historical chart data provided by Morningstar Inc. Real-time index quotes and delayed quotes supplied by Morningstar Inc. Quotes delayed by up to 15 minutes, except where indicated otherwise. Fund summary, fund performance and dividend data provided by Morningstar Inc. Analyst recommendations provided by Zacks Investment Research. StockScouter data provided by Verus Analytics. IPO data provided by Hoover's Inc. Index membership data provided by Morningstar Inc.
MARKET UPDATE
[BRIEFING.COM] The stock market finished the Tuesday session on the defensive after spending the entire day in a steady retreat. The S&P 500 (-0.6%) posted its third consecutive decline, while the small-cap Russell 2000 (-0.9%) slipped behind the broader market during afternoon action.

Equity indices were pressured from the start following some overnight developments that weighed on sentiment. The market tried to overcome the early weakness, but could not stage a sustained rebound, ... More
More Market News