Dark day for a Chinese solar panel maker
The Suntech Power unit is an apparent victim of overexpansion, even as the sun forms a growing part of the energy sector.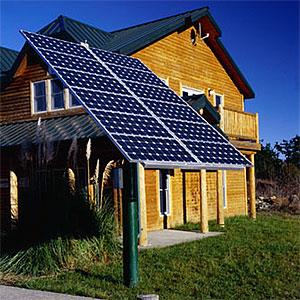 In an unusual move for a Chinese company, Suntech Power Holdings (STP), one of the world's largest producers of solar power panels, says its main Chinese subsidiary is declaring bankruptcy.
On Wednesday, Suntech announced a group of eight Chinese banks has filed a petition for insolvency and restructuring of the company's Wuxi Suntech subsidiary. In a statement on its website, Suntech says it plans to continue production of its solar power products to meet customer orders.
"While we evaluate restructuring initiatives and strategic alternatives, we are committed to continuing to provide high-quality solar products to our global customer base," Suntech CEO David King said in the statement. "During this period, we will continue to work closely with all of our stakeholders and take the necessary steps to put Suntech back on track for growth."
But it was the company's rapid growth that may have been its undoing. The New York Times describes Suntech as "part of a massive Chinese government effort to dominate renewable energy industries." The newspaper notes that as overall solar panel manufacturing in China soared between 2008 and last year, it resulted in a dramatic drop in the price of solar panels, especially in European markets. And that in turn radically eroded profits across the industry.
High U.S. anti-dumping tariffs, as well as an increase in American oil and natural gas production, further undermined Suntech's expansion. Last week the company said it was closing its U.S. factory in Goodyear, Ariz., eliminating 43 jobs there.
Industry analysts and officials have been watching this glut approach for some time now. Back in October, Li Junfeng, the director general for energy and climate policy at China's National Development and Reform Commission, told The Times that part of the problem is Chinese investors who rush into potentially profitable industries. He also said "Chinese companies and their bankers are then far more reluctant than Western companies to admit defeat for investments that prove unprofitable."

Solar power currently accounts for just a tiny fraction of overall energy consumed in the U.S. But those numbers are changing. According to the Solar Energy Industry Association, while prices for photovoltaic installations fell 27% last year, the number of those installations grew 76% in 2012, compared to 2011.

Putting a tariff on Chinese panels was the stupidest move Obama could have made.  If China wanted to subsidize our move to solar, let them!  Notice it got Americans laid off!  Solar is so cheap now it's a no brainer to grab some.  They are practically giving them away! 
Panels in Carters time were a joke, not anymore.   They are economically viable.  Companies are failing because they are so cheap, bad for them, great for us.

I have never seen a push to install solar panel here in Fl. Yet they push high wind rated storm panels and windows. The solar panels would save the individual consumer a lot of money,if they are as you say so cheap that they are not profitable to make. Mabey they could sell them in the dollar store,I would buy a bunch.
Are you sure you want to delete this comment?
DATA PROVIDERS
Copyright © 2014 Microsoft. All rights reserved.
Fundamental company data and historical chart data provided by Morningstar Inc. Real-time index quotes and delayed quotes supplied by Morningstar Inc. Quotes delayed by up to 15 minutes, except where indicated otherwise. Fund summary, fund performance and dividend data provided by Morningstar Inc. Analyst recommendations provided by Zacks Investment Research. StockScouter data provided by Verus Analytics. IPO data provided by Hoover's Inc. Index membership data provided by Morningstar Inc.
MARKET UPDATE
[BRIEFING.COM] The stock market began the new week on a cautious note. The S&P 500 lost 0.3%, but managed to erase more than half of its opening decline. Thanks to the rebound, the benchmark index reclaimed its 50-day moving average (1976.78) after slipping below that level in the morning.

Equities slumped at the open amid a couple global developments that dampened the overall risk appetite. Continued student protests in Hong Kong and a potential response from China weighed on the ... More
More Market News