Why News Corp and The Daily had to go
An 'iPad newspaper' was unsustainable, but so was publishing propped up by television and film.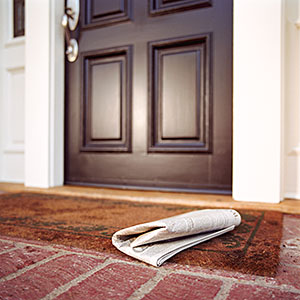 For readers who never thought the words "iPad" and "newspaper" belonged together, News Corp.'s (NWS) The Daily presented them with the one element their argument lacked: proof.
Not only did News Corp. just kill off its "iPad newspaper" that Apple (AAPL) never asked for, but its slaughter of The Daily may have helped tear the company in half as well. On the same day the company decided to abandon The Daily's model that shrugged off the rest of the Internet and mobile altogether in favor of strictly-iPad delivery, it issued a press release announcing more details about the separation of its publishing holdings from its media and entertainment division. The two will exist as independent, publicly traded entities.
News Corp. will remain, becoming a publishing-focused company that oversees not only The Wall Street Journal and Dow Jones, but money-losing pulp-focused entities like the New York Post and Times of London. The Daily's editor-in-chief, Jesse Angelo, will be the Post's new publisher, while Daily publisher Greg Clayman will take over the new publishing company's digital division. No word yet on the remainder of The Daily's 120 employees, who were plucked from various New York publications just before The Daily launched in February 2011 and survived a round of layoffs this summer that cost the publication a third of its staff.
"From its launch, The Daily was a bold experiment in digital publishing and an amazing vehicle for innovation," News Corp figurehead Rupert Murdoch said in the press release. "Unfortunately, our experience was that we could not find a large enough audience quickly enough to convince us the business model was sustainable in the long term."
News Corp.'s television and film holdings, meanwhile, become another company called Fox Group and no longer have to prop up failing publishing entities like The Daily. The profits from those powerhouse media properties were the only way News Corp. and Rupert Murdoch could justify maintaining a big-budget publication that immediately limited its audience by confining itself to tablets and never let itself find a personality. Jim Romenesko's journalism website pointed to what one former Daily writer, Trevor Butterworth, wrote on his Facebook wall: "It didn't have the courage to be cool, quirky, nerdy, obsessive or snarky."
We could pile on with Fortune, Gawker and Slate and tell you what a bad idea it was for an old media mogul to try to latch onto the cool technology of the moment by producing a bland, formless, expensive news entity that spoke to everyone, but no one, all at once. But what's the use? News Corp. knew as early as this summer that it would be getting rid of both The Daily and its publishing business. It got rid of 50 Daily employees this summer and, according to the New York Times, was losing $30 million a year.

Fox television and movies have kept Murdoch's news pet projects on life support for some time now, but changes in the pecking order at the new News Corp. may balance out Murdoch's meddling a bit. While he'll still be both chairman and chief exec at the new Fox Group, he'll have to work with former Wall Street Journal managing editor and Dow Jones editor-in-chief Robert Thompson as chairman to Thomson's chief executive.
Despite the success of the Journal, Dow Jones and WSJ.com, News Corp's separation clearly divides the haves and have nots -- the former company's multimedia future and its papery past. Use whatever metaphor you like: It's hacking off the diseased limb and feeding it to the vultures, it's chipping off the melting part of the iceberg and pushing it out to sea. It's reading the very clear, all-caps writing on the wall and wondering why that wall isn't a screen covered in flashy graphics, news crawls and fighting comic book heroes.
It hasn't been a great time to be in the publishing business in decades, but it's a particularly awful time now. When The Daily's staff clocks out on Dec. 15, when the last edition is slated to run, it'll be joining 30 New York Times staffers who -- according to company memos leaked to Politico -- are being asked to take buyouts as softening ad spending makes the Grey Lady reconsider newsroom size, leases and bureau spending.
Polishing up the old news model by putting it on a tablet didn't work. Neither did subsidizing it with money from summer blockbusters. If splitting News Corp., coming under fire in the British newspaper wiretapping scandal and killing off his iPad publication can't convince Rupert Murdoch that newspaper as he once knew it is dead, maybe his new CEO can put WSJ.com on Murdoch's iPad and get him up to speed.
More from Money Now
DATA PROVIDERS
Copyright © 2014 Microsoft. All rights reserved.
Fundamental company data and historical chart data provided by Morningstar Inc. Real-time index quotes and delayed quotes supplied by Morningstar Inc. Quotes delayed by up to 15 minutes, except where indicated otherwise. Fund summary, fund performance and dividend data provided by Morningstar Inc. Analyst recommendations provided by Zacks Investment Research. StockScouter data provided by Verus Analytics. IPO data provided by Hoover's Inc. Index membership data provided by Morningstar Inc.
MARKET UPDATE
[BRIEFING.COM] The stock market finished an upbeat week on a mixed note. The S&P 500 shed less than a point, ending the week higher by 1.3%, while the Dow Jones Industrial Average (+0.1%) cemented a 1.7% advance for the week. High-beta names underperformed, which weighed on the Nasdaq Composite (-0.3%) and the Russell 2000 (-1.3%).

Equity indices displayed strength in the early going with the S&P 500 tagging the 2,019 level during the opening 30 minutes of the action. However, ... More
More Market News