Are soda taxes the answer to the fiscal cliff?
One activist group says yes, though it won't do much to curb obesity.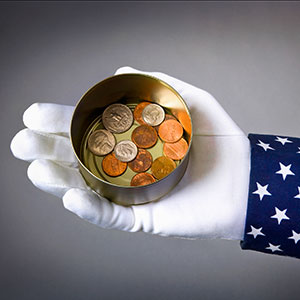 One group has an answer for lawmakers trying to avoid the fiscal cliff: Tax sodas.
Give the Center for Science and the Public Interest credit for being creative. The group, which has long advocated levying taxes on sugary sodas as a means of reducing the nation's soaring obesity rates, argued in a press release Friday that it could help solve the nation's fiscal woes. The group also wants to raise taxes on alcoholic beverages.
"A penny-per-ounce tax on soda and other sugar-based beverages would raise $160 billion over 10 years even as it would make a modest dent in consumption,"
according to CSPI.
"Even smaller soda taxes of just a penny per can could raise $10 billion over 10 years."
The economic argument that CSPI raises certainly is compelling during these trying fiscal times, as investors fret about the imposition of draconian tax hikes and government spending cuts being imposed if Congress fails to take action before the end of the year. The proposal, though, raises more questions than it answers, and doesn't stand a chance of passing Congress given the political clout of the beverage industry.
First, the case that soda is a threat to public health that some, such as New York Mayor Mike Bloomberg, make is far from iron-clad. Per-capita soda consumption has been on the decline for years.
CSPI itself
cheered this trend in a 2010 press release. The non-profit also has a restrictive definition of "sugary beverage" to include ice tea and fruit-flavored drinks with little or no juice, according to spokesman Jeff Cronin. Pure fruit juices, which are full of sugar, would not qualify, he told me in an email. 
"Unlike orange juice, say, which does have nutrients, soda and juiceless fruit-flavored drinks have no redeeming nutritional qualities," he writes in an email.
While that's true, fruit juice has its problems.
The American Academy of Pediatrics
discourages parents from giving these beverages to babies under 6 months of age unless it is needed to alleviate constipation. There are plenty of other loopholes too. Diet soda may lack calories, but its consumption has been linked to increased risk of stroke. Why should Starbucks get a free pass given the caloric heft of some of its beverages?  A 16-ounce Starbucks Pumpkin Spice Latte packs a whopping 380 calories, 120 of which come from fat. A 12-ounce can of Classic Coke seems healthy by comparison because it has 140 calories, none of which come from fat.
Making it more expensive for people to get their caloric fixes won't make them thinner, but it will make them poorer. People, including this writer, become overweight and stay that way for many reasons, ranging from the genetic to the sociological. Declaring "war" on some foods and not others is bad science and even worse public policy.

--Jonathan Berr does not shares of the listed stocks.


More from Money Now
DATA PROVIDERS
Copyright © 2014 Microsoft. All rights reserved.
Fundamental company data and historical chart data provided by Morningstar Inc. Real-time index quotes and delayed quotes supplied by Morningstar Inc. Quotes delayed by up to 15 minutes, except where indicated otherwise. Fund summary, fund performance and dividend data provided by Morningstar Inc. Analyst recommendations provided by Zacks Investment Research. StockScouter data provided by Verus Analytics. IPO data provided by Hoover's Inc. Index membership data provided by Morningstar Inc.
MARKET UPDATE
[BRIEFING.COM] The S&P 500 sits right in the middle of today's trading range as sector standing remains little changed from our midday update.

Outside of the disappointing trade data from China, participants did not receive any noteworthy economic news today. This week in general will be pretty quiet with only Thursday's Retail Sales report for February (Briefing.com consensus +0.2%), and Friday's preliminary reading of the Michigan Sentiment Survey (consensus 82.0) expected to ... More
More Market News
TOP STOCKS
HBO GO crashes on 'True Detective' fans
Who is the Yellow King? An endless 'loading' circle, apparently, as fans eagerly awaiting the killer's identity were left in the lurch by HBO's mobile streaming service.