Tesla Motors furious with New York Times
The electric-car maker defends its vehicle after a scathing newspaper report hurt the company's stock and credibility.
The war of words between Tesla Motors (TSLA) and The New York Times is heating up.
Earlier this month, Times reporter John Broder wrote a scathing article about his test drive of a Tesla Model S electric sedan (prices on the high performance model start at $87,400, after a federal tax credit) from suburban Washington, D.C., to Connecticut -- a drive that he says was punctuated by long stops at roadside charging stations, concerns that the car's battery was losing power in low temperatures and an eventual tow truck rescue.
Tesla shares fell 4% after the article was published, and now the electric-car maker is pushing back.

Billionaire Elon Musk, Tesla's CEO and the man behind the PayPal and SpaceX ventures, blogged his response Wednesday questioning Broder's report and accusing him of being hostile to the concept of electric cars.

"When the facts didn't suit his opinion, he simply changed the facts," Musk wrote about Broder. "Our request of The New York Times is simple and fair: Please investigate this article and determine the truth."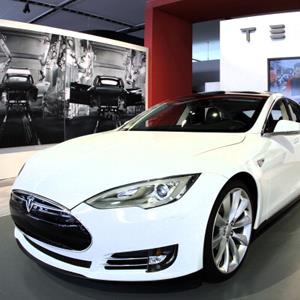 Now Broder has fired back, defending his account of the road trip. The Times' public editor says the paper is investigating the controversy.
There could be a lot of red faces if Broder's report is found to be accurate. In 2010, the federal government lent Tesla Motors $465 million as part of a government effort to help develop clean energy, reduce U.S. dependence on foreign oil and advance vehicle technologies. The Washington Post's Brad Plumer, who reports on energy and environmental issues, believes the controversy could hurt Tesla's potential customer base.
"Tesla's whole strategy depends on lots of people buying electric cars and using the fast-charging stations often -- that will allow the company to recoup its investments," Plumer wrote Thursday. "A negative review in a paper like The New York Times, whose well-heeled readers are part of Tesla's target demographic, hurts that strategy."
Some industry analysts believe the Times' article is just a temporary setback for Tesla.
Earlier this week, MercuryNews.com quoted a report by Elaine Kwei of Jefferies & Co., who still considers Tesla a buy.

"After digging into the background behind the article," Kwei wrote, "our conclusion is that operator error likely played a primary role, due to improper charging protocol."

And there may be something to what Kwei said. CNN Money reporter Peter Valdes-Dapena did his own test drive of the Tesla S Model from Washington, D.C. all the way to Boston -- making the trip in one day and in warmer temperature than The Times' Broder.
And he made it without any major problems, declaring on Friday that the Model S is "a pretty amazing mix of smooth and silent performance along with brain-squishing acceleration."
So who is right: Tesla or The Times? Stay tuned.
More on moneyNOW
DATA PROVIDERS
Copyright © 2014 Microsoft. All rights reserved.
Fundamental company data and historical chart data provided by Morningstar Inc. Real-time index quotes and delayed quotes supplied by Morningstar Inc. Quotes delayed by up to 15 minutes, except where indicated otherwise. Fund summary, fund performance and dividend data provided by Morningstar Inc. Analyst recommendations provided by Zacks Investment Research. StockScouter data provided by Verus Analytics. IPO data provided by Hoover's Inc. Index membership data provided by Morningstar Inc.
MARKET UPDATE
[BRIEFING.COM] Nov crude oil is trading higher this morning as the U.S. and Arab allies have begun missile strikes in Syria on the Islamic State. The energy component dipped to a session low of $90.77 moments after equity markets opened but quickly recovered back into positive territory. It popped to a session high of $91.90 in recent action and is now up 0.9% at $91.64.

Oct natural gas is chopping around in a tight range between $3.88 and $3.90 in the black. It is currently up 1.2% at ... More
More Market News