Capitalism might be making us evil
A study by 2 German economists finds that markets make people more likely to betray their own moral codes.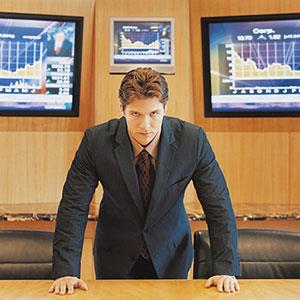 It's just some non-MBA's quack theory that the market strips away all humanity and transforms people into commodities and resources rather than sentient beings whose welfare must be taken into account. There's no quantitative truth to that, right?
Well, maybe just the research of a couple of German economists.

According to a release from the universities of Bamberg and Bonn, a study by economists Armin Falk and Nora Szech released in the journal Science found that markets erode people's morality and help them make decisions that look outright awful without the thin veil of commerce. In short, capitalism makes us do some not-so-nice things.
Of course, shoppers who went out and bought clothes at retailers tied to the deaths of more than 1,100 textile workers in Bangladesh and who buy jeans that CNN says have caused whole rivers in China to turn blue already know this. But the study's key question -- would you let a mouse be killed in exchange for 10 euros? -- presented the theory in far starker terms.

In the first control group of several hundred subjects, 46% agreed to let the mice die.
Then the researchers upped the stakes by putting more people in a market environment, where rights to trade the lives of the mice were bought and sold. In that context, 72% of the people involved were willing to trade the lives of mice for money -- but for far less than 10 euros.

When the study complicated that market even further by adding more levels of traders, roughly 76% of people in the study would kill mice for even lower prices.

"This logic is a general characteristic of markets," Falk says in a press release. "If I don't buy or sell now, someone else will."

Harvard political philosopher Michael J. Sandel said roughly as much about capitalism's open markets in an excerpt from his book "What Money Can't Buy: The Moral Limits of Markets," published by The Atlantic. He warns that America is in danger of becoming a "market society, a way of life in which market values and market reasoning reach into every sphere of life."

Sandel uses the example of a woman who earned $10,000 for having a company's Web address tattooed on her forehead and then used the money to help pay for her son's education. The problem with being able to buy and sell everything, he says, is that we devalue the things we are buying and selling.
While the German economists insist that not all markets are evil, they further posit that not all elements of human existence should be subject to forces of the market. If we're willing to kill mice for money, they imply, we may not be so hesitant to let soldiers, factory workers or other people die so that we might gain. As the researchers wrote: "We as a society have to think about where markets are appropriate and where they are not."

DATA PROVIDERS
Copyright © 2014 Microsoft. All rights reserved.
Fundamental company data and historical chart data provided by Morningstar Inc. Real-time index quotes and delayed quotes supplied by Morningstar Inc. Quotes delayed by up to 15 minutes, except where indicated otherwise. Fund summary, fund performance and dividend data provided by Morningstar Inc. Analyst recommendations provided by Zacks Investment Research. StockScouter data provided by Verus Analytics. IPO data provided by Hoover's Inc. Index membership data provided by Morningstar Inc.
MARKET UPDATE
[BRIEFING.COM] The stock market finished the Tuesday session on the defensive after spending the entire day in a steady retreat. The S&P 500 (-0.6%) posted its third consecutive decline, while the small-cap Russell 2000 (-0.9%) slipped behind the broader market during afternoon action.

Equity indices were pressured from the start following some overnight developments that weighed on sentiment. The market tried to overcome the early weakness, but could not stage a sustained rebound, ... More
More Market News