Airports are already backing up, thanks to sequester
Homeland Security Secretary Napolitano says cuts to workers' hours and overtime are delaying flights at major US hubs.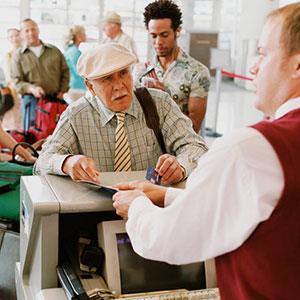 If you're sitting in an airport security line reading this while waiting even longer for a flight to take off, Homeland Security Secretary Janet Napolitano has given you full permission to blame the sequester for your delay.
Thanks to the across-the-board budget cuts that the government has shown no will to prevent, Napolitano says airports like Chicago's O'Hare and Los Angeles International are already experiencing backups that will only get worse. Reuters reports that the Transportation Security Administration and Customs and Border Protection agencies, which are both part of Napolitano's Homeland Security Department, are requiring employees to take unpaid furlough days and forgo overtime just to make ends meet.
Napolitano says she expects delays will only worsen as the week progresses.But they'll have to get pretty awful for passengers at the nation's largest airports to notice. O'Hare alone handled 22.4 million passengers in 2011, which was the last year for which the Department of Transportation had statistics available. At Hartsfield-Jackson Atlanta International that number jumps to 33 million.
All those passengers better start getting accustomed to not reaching their destination on time. The on-time arrival performance of the nation's largest airlines jumped from 73% in 2007 to almost 80% in 2011, but it was well below the 82.1% mark set in 2002. Meanwhile, the percentage of delays caused by airport volume soared from 8% in 1999 to 16% two years ago, which was still better than the 22% of delays caused by heavy traffic in 2009.
If the sequester's staffing cuts and line slowdowns affect on-time departures as a result, it won't exactly ruin airlines' recent record. Late departures have risen from less than 13% of all delays and cancellations a decade ago to more than 17% in 2011. They'd have to rise higher than 21% to break the industry record set in 2007.

Considering how recent airline mergers involving United (UAL), Continental, Southwest (LUV) and Airtran have already contributed to delays -- which the proposed merger of US Airways (LCC) and American (AAMRQ) would only increase -- air passengers should just break out a good book and factor in a few extra hours of travel time. They're not going anywhere for a while.
DATA PROVIDERS
Copyright © 2014 Microsoft. All rights reserved.
Fundamental company data and historical chart data provided by Morningstar Inc. Real-time index quotes and delayed quotes supplied by Morningstar Inc. Quotes delayed by up to 15 minutes, except where indicated otherwise. Fund summary, fund performance and dividend data provided by Morningstar Inc. Analyst recommendations provided by Zacks Investment Research. StockScouter data provided by Verus Analytics. IPO data provided by Hoover's Inc. Index membership data provided by Morningstar Inc.
MARKET UPDATE
[BRIEFING.COM] S&P futures vs fair value: -5.80. Nasdaq futures vs fair value: -12.80. U.S. equity futures trade modestly lower amid cautious action overseas. The S&P 500 futures hover six points below fair value after climbing off their overnight lows reached during the Asian session. The night has been very quiet on the economic front with several central bank and government officials playing down expectations of additional stimulus. On that note, China's Finance Minister Lou Jiwei ... More
More Market News