Just how bad are America's bridges and roads?
Reports warn that delaying investment in the nation's infrastructure will further hurt the economy and lead to higher future costs.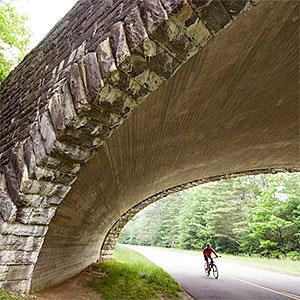 The economy is starting to improve, but crumbling bridges and roads across the country are getting in the way of a full recovery.
The American Society of Civil Engineers has given the country's infrastructure a "D-" grade, in fact, and one recent study shows how deteriorating bridges in the state of Illinois could hurt economic development.

The small but very telling study, sponsored by the Illinois Soybean Association, underscores just how important a sturdy bridge can be to a local economy.
The ISA study focused on 12 modest bridges in the state, the type of spans that go over streams, railroad cuts and other roads. The structures were considered for the benefits they provided local businesses and citizens as well as the potential costs incurred if alternate routes were needed -- that is, if those bridges no longer existed.
And according to the study, "a simple average of the benefit cost ratios for the twelve bridges analyzed yields 10.24, which means that the combined benefits are over 10 times greater than the costs. This can be interpreted as a return of $10.24 for each $1 invested, on average that is added to the local economy as a result of the annualized cost to build and maintain the select bridges."
Sometimes it takes a bridge to tell the story of the nation's infrastructure woes.

It's been five years since a major interstate bridge in Minneapolis collapsed into the Mississippi River, killing 13 people. In an op-ed after that accident, Popular Mechanics criticized the American public in general for "squandering the infrastructure legacy bequeathed to us by earlier generations" by ignoring regular investments in the nation's transportation, communications and vital public utilities systems. 
Just last month, The American Society of Civil Engineers urged President Obama to focus on infrastructure policy as the national economy improves. 

"With the economy slowly recovering, infrastructure investment will help spark growth and continue our path towards prosperity," the society's president said in a statement. "In 2009, ASCE gave America's infrastructure a 'D-' grade and called for $2.2 trillion in investment over the coming five years. Obviously, this investment has not been made, and consequently, we have jeopardized our economy, our quality of life, and our very safety."

ASCE did praise Congress and the Obama Administration for passing the Moving Ahead for Progress in the 21st Century Act in July. That legislation will inject more than $105 billion dollars into surface transportation programs for FY 2013 and 2014. Transportation Secretary Ray LaHood calls the act a win-win bipartisan measure that would help all Americans.

"The fact is that America's transportation challenges are enormous," LaHood said in a statement last March. "Highways are choked with congestion. Bridges are deteriorating after years of neglect. Daily commutes have grown longer, more crowded, and more expensive. Airport, transit, and shipping delays cost businesses billions of dollars every year."
"At the same time, nearly one in five construction workers is looking for employment," he continues. "Not only is this an economic problem, it's a missed opportunity. Investing in America's roads, railways, transit lines, and airports is the perfect way to generate tens of thousands of jobs without drama or delay."
Nothing involving infrastructure is ever easy. Economic challenges like the fiscal cliff, bureaucratic red tape on all levels of government and petty corruption can bring important infrastructure projects to a grinding halt.
But a recent ASCE policy statement warns that delaying investment in America's infrastructure could lead to an exponential rise in those eventual costs -- to the determent of the overall economy. "Within 10 years," the statement says, "U.S. businesses would pay an added $430 billion in transportation costs, household incomes would fall by more than $7,000, and U.S. exports will fall by $28 billion per year."
More from Money Now

The longer they delay some projects, the harder and more expensive it gets to repair the problems.
I also believe they should incorporate newer,modern materials into construction....
Instead of just concrete and steel....That deteriorate too quickly under adverse weather conditions.
And our power grids and pipelines....Are needed for growth....Let alone jobs.
2 less Wars and skimming off Foreign aide can pay for it.

Next Time.....There already is Foreign ownership of some of our Nation's Tollways...
Some of them are Connectors or even straight through shots of Our Interstates..
And other Tollways are privately owned by Groups of Investors.
The ones owned by either Groups are usually maintained better then our Goverment does.
Are you sure you want to delete this comment?
DATA PROVIDERS
Copyright © 2014 Microsoft. All rights reserved.
Fundamental company data and historical chart data provided by Morningstar Inc. Real-time index quotes and delayed quotes supplied by Morningstar Inc. Quotes delayed by up to 15 minutes, except where indicated otherwise. Fund summary, fund performance and dividend data provided by Morningstar Inc. Analyst recommendations provided by Zacks Investment Research. StockScouter data provided by Verus Analytics. IPO data provided by Hoover's Inc. Index membership data provided by Morningstar Inc.
MARKET UPDATE
[BRIEFING.COM] The stock market finished an upbeat week on a mixed note. The S&P 500 shed less than a point, ending the week higher by 1.3%, while the Dow Jones Industrial Average (+0.1%) cemented a 1.7% advance for the week. High-beta names underperformed, which weighed on the Nasdaq Composite (-0.3%) and the Russell 2000 (-1.3%).

Equity indices displayed strength in the early going with the S&P 500 tagging the 2,019 level during the opening 30 minutes of the action. However, ... More
More Market News