What Cory Booker is learning about food stamps
Newark's mayor laments the difficulty of finding healthy food while on assistance. He's also using the issue to jumpstart a promising political career.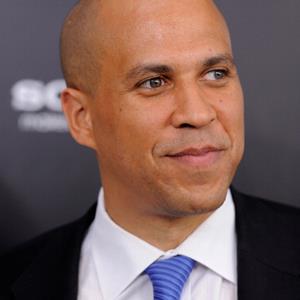 Cory Booker, the telegenic mayor of New Jersey's largest city, is spending a week on food stamps to raise awareness about hunger. His campaign highlights one of the bitterest ironies about the public assistance program: Many of its recipients are overweight.
After nearly a week of eating sweet potatoes and canned beans and vegetables, Booker, who is a vegetarian, said he can't blame someone for buying a treat to break up the diet. People on food stamps "don't always have an abundance of wholesome food available to them and end up consuming many empty calories," he said on
his blog
.
A study published in 2009 found that the average user of food stamps, known officially as the Supplemental Nutrition Assistance Program (SNAP), had a body mass index 1.15 points higher than non-users, according to
Science Daily.
Why this happens is not clear. Maybe it's because high-calorie foods with little nutritional value tend to be cheaper than fresh fruits and vegetables. Scientists have also found what they call
"food deserts"
-- defined by the Centers for Disease Control and Prevention as "areas that lack access to affordable fruits, vegetables, whole grains, low-fat milk, and other foods that make up the full range of a healthy diet." Another study published
earlier this year
, however, questioned the idea of "food deserts" found that residents of poor neighborhoods have plenty of opportunities to purchase healthy foods.
In a series of
YouTube videos a
nd blog posts, Booker has documented his struggles, including the headaches he's sustained from caffeine withdrawal and the challenge of stretching meals because his budget is limited to about $30 per week. He makes some salient points, such as that people on government aid aren't the leeches some critics think.  In fact, many SNAP users work or are members of the U.S. military.
"Literally hundreds of people this week have reached out to help me, offered me tips, assistance and many have offered me free food, not understanding the rules say I can't accept it," wrote Booker, the mayor of Newark, on his blog, where he lamented having accidentally burned a sweet potato. "There is such good will. "
Robert Rector, a senior research fellow at the conservative Heritage Foundation, dismisses Booker's challenge as a "carnival sideshow" and argues that if Booker were on public assistance that his benefit would be closer to $40 a month. In fact, the USDA's
Thirfty Food
Plan, which is the basis for how SNAP benefits are calculated, pegs the monthly food cost for a man Booker's age at $41.70.
SNAP no doubt prevents many people, such as young children, from starving. Unfortunately,  it's also very expensive.
Data cited by CNN shows that spending on food stamps more than doubled between fiscal 2008 and fiscal 2011 to more than $75 billion. One reason for the increase was a decision by the Obama administration to suspend the program's work requirements, according to the Heritage Foundation. This has lead to a doubling of food stamps use among the able-bodied population. Moreover, having money in the bank does not affect eligibility for the program, Rector says.
"In many states, you can have a million dollars in the bank and still be eligible for food stamps," Rector said, adding that "there are very few people who just get food stamps."

Democrats and Republicans are trying to reform entitlements as a part of the fiscal cliff negotiations. Whether they will be successful remains to be seen. One thing is for sure: Booker won't be done discussing the issue when his challenge is over. Over the weekend, media reports said he was considering challenging New Jersey's tart-tongued Republican governor, Chris Christie, next year. He also may run for the U.S. Senate seat currently held by 88-year-old Democratic incumbent Frank Lautenberg.

One reason why Booker has many career options available is his adroit use of social media, as evidenced by the food stamp challenge, which was sparked by a conversation he had on Twitter.

"Booker's use of social media cannot be seen in isolation," writes Ben Dworkin, director, Rebovich Institute for New Jersey Politics at Rider University, in an email.  "It is part of a larger brand-building enterprise that makes him one of the most widely-known mayors in the country. . .The social media efforts contribute to the selling of the image, but so are his public speeches, television appearances, etc."
His popularity is evident from the 139 media requests for interviews submitted to his office.
--Follow Jonathan Berr on Twitter @jdberr.
More from Money Now
DATA PROVIDERS
Copyright © 2014 Microsoft. All rights reserved.
Fundamental company data and historical chart data provided by Morningstar Inc. Real-time index quotes and delayed quotes supplied by Morningstar Inc. Quotes delayed by up to 15 minutes, except where indicated otherwise. Fund summary, fund performance and dividend data provided by Morningstar Inc. Analyst recommendations provided by Zacks Investment Research. StockScouter data provided by Verus Analytics. IPO data provided by Hoover's Inc. Index membership data provided by Morningstar Inc.
MARKET UPDATE
[BRIEFING.COM] The stock market began the new trading week on the defensive note with small-cap stocks pacing the retreat. The Russell 2000 (-1.4%) and Nasdaq Composite (-1.1%) displayed relative weakness, while the S&P 500 lost 0.8% with all ten sectors ending in the red.

Global equities began showing some cracks overnight after China's Finance Minister Lou Jiwei poured cold water on hopes for new stimulus measures. Specifically, Mr. Lou said the government has no plans to change ... More
More Market News