Facebook doesn't want your input on privacy
The social media giant seeks to end user voting on changes to its policy.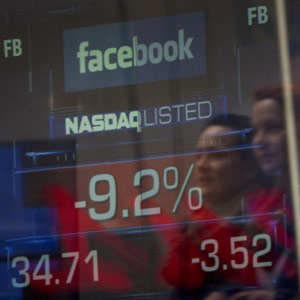 Just when you thought you could breeze through the last work day before Thanksgiving with help from the thousand-yard Internet stare, here's Facebook (FB) jarring you out of your tech loop with yet another privacy issue.
Because Facebook is like the fidgety kid in grade school who can't hold it together until the bell rings and ends up misbehaving the entire class into a pop quiz when it could have coasted by on hand-turkey drawings, it just had to mess with its privacy protocol on Wednesday. The company plans to stop letting users vote on changes to its privacy policies, instead only letting them comment on proposed updates.
Yes, because privacy issues aren't a huge sticking point for Facebook. At all.

It's not as if Facebook's privacy policy incurred the wrath of the Irish Data Protection Comissioner's office last year and resulted in a full audit of how the site's treatment of 818 million European users complied with E.U. Law. It's not as if that audit led to a step-by-step walkthrough of Facebook's privacy policies, new privacy settings for individual posts and photos and a settlement with the Federal Trade Commission last November over its handling of user data.
The site's voting process was the individual user's only means of affecting which parts of their profile Facebook could show and which portions would be hidden by privacy settings. If a privacy policy change drummed up 7,000 comments, the change went to votes. If more than 30% of Facebook's user base voted for it or against it, then their decision stood.
Granted, the site had only 200 million users when it adopted this model in 2009 and has more than 1 billion now, but it still makes Facebook an open democracy. It became a cudgel for privacy activists like the Austrian-based group Europe Vs. Facebook, which spurred on the Facebook audit by using one of the site's lesser known policies to request detailed copies of users' personal information. The group forced a vote on its own revisions to Facebook policy last year, though only 380,000 people cast ballots.
TechCrunch argues that the current 7,000-comment voting threshold is too low and allows groups like Europe Vs. Facebook outsized influence on policy, but also insists that dropping the vote altogether isn't exactly sound policy. Keeping the number that low lets gibberish and spam comments trigger a vote, while a higher threshold would arguably introduce more real people and opinions into the mix.
Getting rid of the vote would only make more Facebook users do what many Facebook exiles on Google+, the new MySpace, Twitter and only social networks already have: Completely distrust Facebook. The site has already faced privacy concerns about its facial-recognition photo tagging, account deletion, "couple" pages and other prying aspects of its service.
With its stock plummeting more than 36% in the last year and its losses last quarter unmasking its revenue as a giant game of Zynga's (ZNGA) FarmVille, the last thing Facebook needs is another excuse for skittish users to nuke their accounts. For Facebook users who'd rather stick around without letting the company unilaterally decide who gets to peep at their personal information, there's still time to comment and vote on what could be Facebook's last democratic approach to privacy.
More from MSN Money

DATA PROVIDERS
Copyright © 2014 Microsoft. All rights reserved.
Fundamental company data and historical chart data provided by Morningstar Inc. Real-time index quotes and delayed quotes supplied by Morningstar Inc. Quotes delayed by up to 15 minutes, except where indicated otherwise. Fund summary, fund performance and dividend data provided by Morningstar Inc. Analyst recommendations provided by Zacks Investment Research. StockScouter data provided by Verus Analytics. IPO data provided by Hoover's Inc. Index membership data provided by Morningstar Inc.
MARKET UPDATE
[BRIEFING.COM] The S&P 500 trades lower by 0.8% with one hour remaining in the first session of the week. This morning was very quiet on the economic front with participants receiving just one report-August Existing Home Sales. Tomorrow's session will be equally as quiet with economic data limited to the FHFA Housing Price Index for July.

The remainder of the week will feature August Durable Orders (Briefing.com consensus -16.3%) and the third revision of Q2 GDP with the latter set ... More
More Market News