IPhone app helps save Algerian escapees
There was no cellular signal, but a compass program on the phone worked anyway -- and led a group of eight men out of the desert.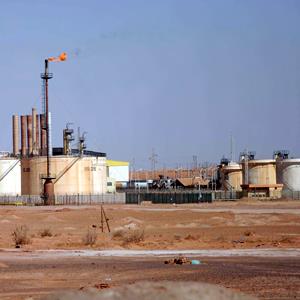 Think your phone is a lifesaver? Liviu Floria's phone helped lead him out of an attack in the deadly Algerian desert, showing him the way even without a cellular signal.
Now that is technology you can depend on.
Floria was one of eight people who managed to escape the In Amenas gas facility in Algeria, the site of an Islamist militant attack that claimed the lives of dozens of victims. The group fled the compound at 2 a.m., according to a suspenseful New York Times
report
, running for a vast desert that could have been just as deadly as the scene they left behind.
The survivors only had a flickering flame on a distant gas well to guide them. But when daylight came and they could no longer see the flame, they depended on the compass app on Floria's iPhone.
The iPhone couldn't make calls or access the Internet. There was no cellular signal of any kind. But the compass app worked even without a signal, leading the group over sand, rocks and small hills until the late afternoon, writes Nicholas Kulish.
They finally got to the gas well. Four men stayed there and four went on to a nearby road, where they hailed a car driven by an Algerian security officer. Floria, who is Romanian, left Algeria on an American military transport plane.
So go ahead and criticize Apple's much maligned Maps application. It deserves it. But that compass app is worth a download, no matter what kind of smartphone you have. You never know when it might come in handy.
More in moneyNOW
MARKET UPDATE
[BRIEFING.COM] The major averages ended modestly lower with the S&P 500 shedding 0.3%.

The benchmark average saw an opening loss of 1.2% after Japan's Nikkei tumbled 7.3%. Japanese stocks sold off amid continued volatility in Japanese Government Bond futures as the 10-yr yield spiked almost 16 basis points to 1.002 before the Bank of Japan's JPY2 trillion liquidity injection caused yields to retrace their gains.

Adding insult to injury was news out of China where the HSBC ... More
More Market News
TOP STOCKS
Many signs point to a dollar rally
With Europe mired in recession, China faltering, commodities declining and stocks looking vulnerable, investors seeking safety will look to the greenback.