Target's mixed results miss the mark
It fell short of net income estimates but exceeded on revenue. Still, it's keeping the heat on archrival Wal-Mart.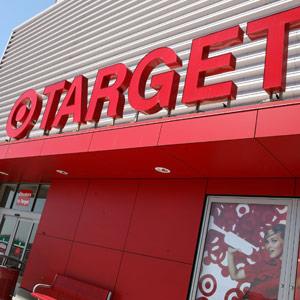 Shares of Target (TGT) opened Wednesday morning lower after the country's second-largest retailer behind Wal-Mart (WMT) reported its worst holiday same-store sales since 2008.

Net income at the Minnesota-based retailer fell 2% to $961 million, or $1.47 per share, versus $981 million, or $1.45, a year earlier, but revenue surged 6.8% to $22.4 billion. The profit missed the $1.48-per-share average earnings estimate of Wall Street analysts. Target's revenue matched expectations. And same-store sales, a key retail metric of stores opened for at least a year, gained 0.4% in the quarter.

Shares of the retailer rose initially in premarket trading but turned negative amid concerns about Target's aggressive expansion plans in Canada. Target also owns 1,778 stores in the U.S. CEO Gregg Steinhafel noted the company survived "a highly promotional retail environment and continued consumer uncertainty."  
 
Also on the plus side, the chain issued earnings guidance for the year that surpassed analysts' forecasts. That contrasts to rival Wal-Mart's guidance, which lagged expectations, as Bloomberg News noted. Wall Street analysts have an average 52-week price target of $70.22 on Target, more than 11% higher than where it currently trades.

While Target is putting the heat on Wal-Mart, it's also facing heightened competition from rivals such as TJX (TJX), the parent of TJ Maxx and Home Goods, which today reported better-than-expected​ earnings, raised its dividend and announced a stock buyback. DollarTree (DLTR), another discount retailer, also reported earnings that beat analysts' forecasts.

As the economy continues to rebound, consumers may become less price-sensitive, which would be good news for Target -- and bad news for Wal-Mart.

--Jonathan Berr is long Target. Follow him on Twitter @jdberr.

Target needs to appeal to those with cash..not just teens and young families...they are really not doing a good job with thier clothing lines. Older woman want fun fashions but also coverage.....not sleeveless, small waisted and overly  snug clothing....Whoever is doing the clothing purchasing is really out of touch with who has the money to spend on clothes.

I agree with most people. I am a short woman 50 yrs. I tend to buy most my clothes in the junior dept. They are Young and stylish compared to the 'womens' dept, that has very little to choose from and the clothes are boring to look at. I notice Targets clothes are now all tight, skimpy, and would show every bump and roll. I have stopped my weekly purchases because of this reason. There is less to choose from. They need to care more options in clothing for different body types. When I take my 17 yr daughter she has no problem loading up the cart.! I feel so left out and forgotten ! Now we know why sales are down ..

Who ever contracted the company that provides the TV Advertisements for Target should be fired. Every ad that I have seen on TV for Target has been "terrible", I watch the ad and when it has the name Target at the end, I sit there thinking why in the world would they approve this? Just my opinion.

My wife and I were walking by the women's section and began laughing at the 'designer' cloths. Everything is wrong from colors, shapes, cuts. My wife is a plus size and is really always repulsed by the selection not just at Target which was even worse. She says this is why "I always were dark colored cloths'....I have to agree with her on that one. Can't the 'designers' just make larger sizes of the 'hip style' cloths? not this crapping bright colors and patterns that make you look like a "billboard clown".

Target would do very good if they ignore Wall Street and just take care of business.  Higher and higher profits for Wall Street is what has destroyed American Manufacturing.  Your retirement is tied to Wall Street so it seems like a good idea, but it isn't.  Put the economy back in the hands of people and let investments do their own thing. 

Well that disasterous Nieman Marcus tie in was just bad. The product wasn't good at all.
I live in a higher income area where our Target is fantastic & shopped to the point of sell out on all the special designer promotions like Missoni & the NM  crap just gathered dust until it was 60% off.
Dumb promo.
Are you sure you want to delete this comment?
DATA PROVIDERS
Copyright © 2014 Microsoft. All rights reserved.
Fundamental company data and historical chart data provided by Morningstar Inc. Real-time index quotes and delayed quotes supplied by Morningstar Inc. Quotes delayed by up to 15 minutes, except where indicated otherwise. Fund summary, fund performance and dividend data provided by Morningstar Inc. Analyst recommendations provided by Zacks Investment Research. StockScouter data provided by Verus Analytics. IPO data provided by Hoover's Inc. Index membership data provided by Morningstar Inc.
MARKET UPDATE
[BRIEFING.COM] The stock market finished the Tuesday session on the defensive after spending the entire day in a steady retreat. The S&P 500 (-0.6%) posted its third consecutive decline, while the small-cap Russell 2000 (-0.9%) slipped behind the broader market during afternoon action.

Equity indices were pressured from the start following some overnight developments that weighed on sentiment. The market tried to overcome the early weakness, but could not stage a sustained rebound, ... More
More Market News