Can Eddie Lampert save Sears?
The billionaire investor takes over the beleaguered chain after the abrupt departure of former CEO Lou D'Ambrosio.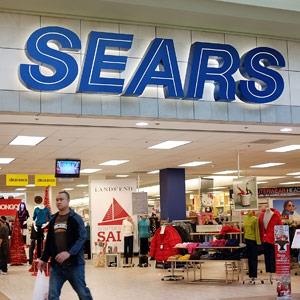 Shares of
Sears Holdings
(
SHLD
) fell more than 5% in morning trading Tuesday on news that billionaire Edward Lampert, the chain's largest shareholder, would take over as CEO following the abrupt departure of Louis D'Ambrosio for "
family health reasons
." He is the company's fifth CEO since 2005, when Lampert pushed for the merger between Sears and Kmart.
Lampert, who has been arguing that Sears was on the verge of a turnaround since the administration of George W. Bush, will now have to match his words with deeds. That is not going to be easy. 
The venerable retail chain continues to be vexed by an identity crisis.
Wal-Mart
(
WMT
), for instance, is known for its low prices.
Target 
(
TGT
)
is seen as a slightly more up-market alternative to Wal-Mart. What does Sears have to offer today's shopper? No none seems to know, and this confusion is reflected in the financial performance of the company.
Sales have declined for an eye-popping 23 straight quarters, which as
Bloomberg News
notes has eroded the company's cash position. D'Ambrosio, who had no retail experience when he joined the company last year, wasn't able to do much to stem the bleeding. He will remain with the firm through February.
The company has been forced to sell what it can to keep itself afloat. In October, it spun off its Sears Hometown and Outlet stores, which sells hardware, tools, home appliances, and garden equipment. It also spun off part of Sears Canada.
Shares of Sears have surged more than 47% over the past year as investors bet that Lampert would take the company private or improve the chain's financial performance enough to make it an attractive merger partner. The company's struggles, though, continue.
Sears said Monday that it expects to lose $280 million to $360 million, or $2.64 to $3.40 per share, in the current quarter. The net loss for the fiscal year will be between $721 million and $801 million. But excluding one-time costs and other items, profit would be $1.25 to $2 per share. Give the company credit for putting a positive spin on the situation.
Earnings before interest, taxes, depreciation and amortization should improve for the U.S. for four quarters straight, D'Ambrosio said in a statement, and the company had cut its net debt by $400 million at the end of 2012.
Whether that's good enough for Wall Street remains to be seen.
Jonathan Berr is long Target.  Follow him on Twitter @jdberr.

More on Money Now

DATA PROVIDERS
Copyright © 2013 Microsoft. All rights reserved.
Fundamental company data and historical chart data provided by Morningstar Inc. Real-time index quotes and delayed quotes supplied by Morningstar Inc. Quotes delayed by up to 15 minutes, except where indicated otherwise. Fund summary, fund performance and dividend data provided by Morningstar Inc. Analyst recommendations provided by Zacks Investment Research. StockScouter data provided by Verus Analytics. IPO data provided by Hoover's Inc. Index membership data provided by Morningstar Inc.
RECENT POSTS
The best credit cards of 2013
Looking for a new credit card? CardRatings.com highlights the top cards in eight categories in these Editor's Picks.
MARKET UPDATE
[BRIEFING.COM] Equity indices remain pinned to the mat as most cyclical sectors continue to trail the broader market. Out of the six cyclical groups, only two-consumer discretionary (-0.3%) and technology (-0.3%)-outperform while the other four hold losses close to 1.0% apiece.

Over on the countercyclical side, the consumer staples (+0.3%) space is the lone advancer while the other three groups hover in the red. Utilities (-0.5%) trade just ahead of the broader market while health care ... More
More Market News
TOP STOCKS
Gun demand slows in America
Fears of new firearm restrictions arose after last year's Sandy Hook school shooting, but those appear to be fading with time.