Farmers cultivate drones as new high-tech tool
Researchers are developing unmanned aerial vehicles that can help the agriculture industry monitor crops and increase yields.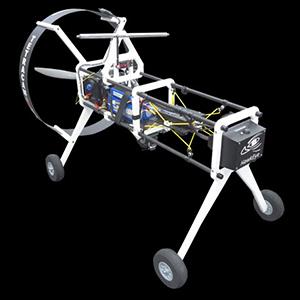 We're at a fascinating and potentially profitable crossroads with a new technology as the emerging drone industry comes up with solutions to some of today's problems while helping create possible guidelines for the future.
This is the case with the growing focus on unmanned aerial vehicles -- also known as UAVs or drones -- for use in agriculture. While drones have a decidedly military connotation for most people, researchers and the ag industry hope the UAVs in development will help farmers reconnect with their crops in a high-tech manner.
Large corporate farms already use remote-sensing technologies like satellite monitoring, aerial photography and GPS coordinates to help keep track of their crops. But they've been looking for relatively inexpensive and semi-autonomous systems that can work in real time and help them inspect crops in greater detail.
"This technology should provide an opportunity to see parts of the field even down to the leaf level," Phil Hamm, the director of the Hermiston Agricultural Research and Extension Center at Oregon State University, recently told The Wall Street Journal.
The Federal Aviation Administration plans to integrate what it calls unmanned aircraft systems into the nation's airspace by 2015, but until then, according to the newspaper, American farmers can use drones only if they're taking part in university research.
Oregon State, for example, is testing two types of camera-equipped UAVs for crop monitoring. One, Tetracam's HawkEye (pictured), is relatively small, attaches to a parachute, has a propeller-driven system and carries a video camera. Another, built by Procerus Technologies, which Lockheed Martin (LMT) acquired last year, looks like a kid's glider. And Yamaha Motor (YAMHF) has come up with the RMAX, an unmanned, helicopterlike UAV that it says has a wide spectrum of agricultural uses, including seeding and spraying.
Pricing for a lot of these UAVs, which can also take infrared pictures and monitor moisture in soil, can run into the thousands of dollars. But some researchers are coming up with cost-efficient alternatives.
Chris Anderson, a former editor-in-chief of Wired magazine and now the CEO of 3D Robotics, is developing a UAV that's the size of a model airplane, has a foam body and uses a $170 autopilot system. Anderson tells Live Science these small and inexpensive drones can be flown unregulated over private land to take high-resolution images of crops. That would help farmers with issues like how to pinpoint treatments of fungal plant infections rather than spraying an entire field.
Experts say an aging generation of farmers in the U.S. is struggling to keep up with the food needs of a growing global population. So these new agricultural drones could help them get the largest yields possible.

And they may also create a new industry. The Wall Street Journal expects that in the 12 months after the FAA's new UAV regulations go into effect starting in late 2015, more than 21,000 drone-related jobs will be generated.

The technology change in agriculture has been unbelievable over the past 60 years. None of this change has been because of government programs. It has been the free enterprise system that created this change. I remember it toke a week to pick 20 acres of 40 bu/A ear corn. Now 1200A of 320 bu/A shelled corn on the same ground takes 10 hours.
Are you sure you want to delete this comment?
DATA PROVIDERS
Copyright © 2014 Microsoft. All rights reserved.
Fundamental company data and historical chart data provided by Morningstar Inc. Real-time index quotes and delayed quotes supplied by Morningstar Inc. Quotes delayed by up to 15 minutes, except where indicated otherwise. Fund summary, fund performance and dividend data provided by Morningstar Inc. Analyst recommendations provided by Zacks Investment Research. StockScouter data provided by Verus Analytics. IPO data provided by Hoover's Inc. Index membership data provided by Morningstar Inc.
MARKET UPDATE
[BRIEFING.COM] The stock market finished an upbeat week on a mixed note. The S&P 500 shed less than a point, ending the week higher by 1.3%, while the Dow Jones Industrial Average (+0.1%) cemented a 1.7% advance for the week. High-beta names underperformed, which weighed on the Nasdaq Composite (-0.3%) and the Russell 2000 (-1.3%).

Equity indices displayed strength in the early going with the S&P 500 tagging the 2,019 level during the opening 30 minutes of the action. However, ... More
More Market News