Low finance: Sexy shoe-shiners hit Wall Street
By building a brand around tank tops and short shorts, Star Shine NYC's owners are reveling in a revealing business trend.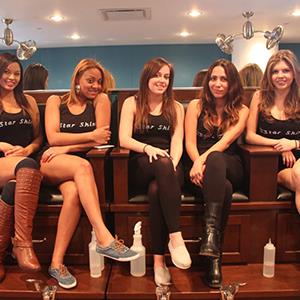 Boy, has it been a busy month for mammary-minded American consumers.
First, Hooters started toning down its image to appeal to more women. Then the wings-and-tight-shir​ts restaurant chain slid away from that stance after being sued by a waitress who claims she was fired for not wearing a wig over a surgical scar.

Then, Texas-based Bikinis Sports Bar and Grill trademarked the term "breastaurant" after similarly themed establishments like the Tilted Kilt, Mugs N Jugs and Twin Peaks considered that descriptor too vulgar for their blushingly modest tastes.
Now, Star Shine NYC is bringing tank tops and tiny shorts to Manhattan's financial district in the shoe-polishing world's answer to a bikini car wash. According to DNAinfo, co-owner Kevin White Jr. and his father came up with the plan for an "upscale" shoe-shine spot run by attractive women while working in finance downtown and commuting home to Queens.
The small shop between Exchange Place and Beaver Street is furnished with leather chairs and flat-screen TVs, and White has plans to bring in beer and wine. A regular shine costs $7, but there's a $4 early-bird special before 11 a.m.
A few random observations: 1. There's a certain Lower Manhattan subculture that believes the more low-cut or nonexistent a woman's top is, the more "upscale" the establishment is. 2. Don't give White a hard time about sexism or objectification of women at his shoe-shine stand. After all, he says, "even my sister, a college student, is working there." 3. Yes, Star Shine does on-premises calls for groups of 10 or more.
So, how much is sex actually selling these days? While there's no point of comparison for scantily clad shoe-shiners, food industry research firm Technomic found that the top three "breastaurant" chains behind Hooters saw sales climb 30% in 2011. Hooters' sales, however, plateaued at $1 billion in 2007 before falling to $850 million last year.

Remove the slightly dressed ladies from that equation, though, and you basically have Buffalo Wild Wings (BWLD), which has expanded from 340 to more than 500 restaurants nationwide since 2008 and saw same-store sales jump 6.6% last year alone. In a casual-dining market that has been in steady decline since the recession, Buffalo Wild Wings has thrived because of what's on its plates, in its glasses and on its TVs -- not what's stuffed into its uniforms.
That doesn't mean breastploitation companies like this cropped-top shoe-shine stand won't find success, but the business of American ogling tends to be cyclical. Judging by the events of the past month, leering hasn't been this lucrative since lads' mags like Maxim and FHM peaked nearly a decade ago.
DATA PROVIDERS
Copyright © 2014 Microsoft. All rights reserved.
Fundamental company data and historical chart data provided by Morningstar Inc. Real-time index quotes and delayed quotes supplied by Morningstar Inc. Quotes delayed by up to 15 minutes, except where indicated otherwise. Fund summary, fund performance and dividend data provided by Morningstar Inc. Analyst recommendations provided by Zacks Investment Research. StockScouter data provided by Verus Analytics. IPO data provided by Hoover's Inc. Index membership data provided by Morningstar Inc.
MARKET UPDATE
[BRIEFING.COM] The S&P 500 (-0.1%) continues hovering right below its flat line with heavily-weighted sectors like financials (-0.2%), industrials (-0.1%), and technology (-0.5%) pressuring the broader market.

On the upside, countercyclical telecom services (+0.6%) and utilities (+0.7%) sport solid gains, but the two groups carry little influence over the broader market since they represent just 5.4% of the entire S&P 500. Meanwhile, the top-weighted sector-technology-accounts ... More
More Market News
TOP STOCKS
Up next: The biggest bank IPO ever
The expected $3.36 billion offering from Citizens Financial Group won't come close to Alibaba's, but it will be an important one for the market.