Facebook crashes the Nasdaq-100
Nasdaq wants the company in its index so badly that it shortened the mandatory minimum 'seasoning' period for entry to 6 months from 2 years.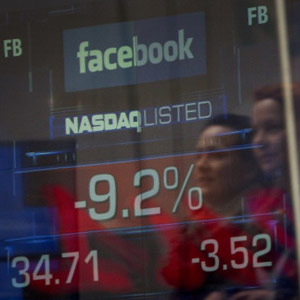 Facebook (FB) is joining the Nasdaq-100 Index ($NDX)? Great. What do you have to do to get in these days, knock?
In any other world, this would be baffling. It's been less than a year since the company's initial public offering. Its share price tanked immediately afterward and could be modestly described as volatile in the months since. Share value hasn't approached its nearly high and sank as low as $17.73 in September.
Facebook's stock price has risen nearly 55% since then, but is still down more than 28% on the year. In Nasdaq's world, not only is this OK, but it makes Facebook a sturdy pillar on which to rest its market. Nasdaq started engraving Facebook's invitation in April by shortening the mandatory minimum "seasoning" period from two years to six months -- seemingly just to get Facebook into the mix.
Nasdaq really loves Facebook's $60 billion market cap, but has a short memory when it comes to these kinds of moves. Doesn't anything about a social networking company that gets 92% of its income from online games like "FarmVille" and "Words With Friends" seem eerily familiar? Doesn't the fact that Facebook blamed online gaming partner Zynga (ZNGA) for its losses last quarter, spurred Zynga into a round of layoffs and signed a new agreement distancing itself from Zynga jog some long-repressed bad memories?
Think, Nasdaq. It was March 10, 2000. Your Nasdaq composite just closed at an all-time peak of 5,048. Fewer than 400 Internet companies made up $1.3 trillion of U.S. stock market value. What happened next? Was there maybe something terrible involving Pets.com and a $300 million sock puppet? Was there maybe an InfoSpace stock that went from $1,300 to $22 a share in about a year?
Was there a nearly 4,000-point fall over the next two years that left you with some selective amnesia? That's about the only way to explain why Facebook's in your Nasdaq 100 despite its market track record. You know who else once looked like a contender for that slot? Groupon, when its stock debuted last November with a $20 share price behind the company's nearly $18 billion market cap. A year later, share prices are below $4 and the market cap has shrunk to nearly $2.5 billion.
That two-year seasoning period was in place to prevent just the kind of things that happened to the Nasdaq during the dot-com boom. By just letting shaky Facebook glide its way through the revolving door and into its upper echelons, Nasdaq just lost any "elite" status its 100 may have had. An invitation-only party at a villa in Monaco just turned into a open-door 2000s nostalgia party, and is inviting all of the same headaches from a decade ago as a result.
More from Money Now
As if the world hasn't been Sucker-berged enough. It now has to join NASDAQ in order to get more money out of Facebook? Not getting enough money selling private info there, Zuckerberg?

Guess Zuckerberg thinks he's immortal or something.

What I find real hilarious is that Facebook and Bazinga... err... Zynga games are having a lover's quarrel. Facebook lost money because of them? Probably because people got tired of playing rehashes... err... Ripoff games that Zynga made. Zynga is a terrible company and is just perfect for the evil Zuckerberg Empire. So, it comes as no surprise that Zuckerberg wants to blame them and Zynga's actions to remedy it.

So feel free to add the stock to Nasdaq. It will just make me laugh even harder when the almighty Suckerberg gets his comeuppance.


Are you sure you want to delete this comment?
DATA PROVIDERS
Copyright © 2014 Microsoft. All rights reserved.
Fundamental company data and historical chart data provided by Morningstar Inc. Real-time index quotes and delayed quotes supplied by Morningstar Inc. Quotes delayed by up to 15 minutes, except where indicated otherwise. Fund summary, fund performance and dividend data provided by Morningstar Inc. Analyst recommendations provided by Zacks Investment Research. StockScouter data provided by Verus Analytics. IPO data provided by Hoover's Inc. Index membership data provided by Morningstar Inc.
MARKET UPDATE
[BRIEFING.COM] The stock market began the new trading week on the defensive note with small-cap stocks pacing the retreat. The Russell 2000 (-1.4%) and Nasdaq Composite (-1.1%) displayed relative weakness, while the S&P 500 lost 0.8% with all ten sectors ending in the red.

Global equities began showing some cracks overnight after China's Finance Minister Lou Jiwei poured cold water on hopes for new stimulus measures. Specifically, Mr. Lou said the government has no plans to change ... More
More Market News