Should the US have a national biometric ID card?
Immigration reform efforts are rekindling interest. However, the cards also raise tough questions about cost, practicality and cultural change.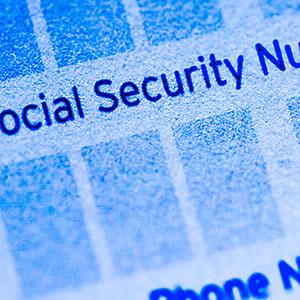 As Congress grapples with new efforts at immigration reform and the best way to deal with the estimated 11 million illegal immigrants in the U.S., the very controversial idea of a national identification card has once again come to the fore.

The Wall Street Journal reports a bipartisan group of senators is exploring the possibility of requiring anyone working in the U.S. to carry a "high-tech identity card that could use fingerprints or other personal markers to prove a person's legal eligibility to work."
The Journal says while the lawmakers aren't calling for a so-called "biometric" ID card and are open to other options, several have supported the concept in the past. Their goal, says the paper, is to "ensure that employers can learn the legal status of all new hires quickly," while preventing illegal immigrants from tricking the system by using made-up or stolen identification data.
The costs of setting up such a system are just one of the obstacles facing a biometric national ID card. "It's going to be a challenge for small business," says Stephen Haag, a professor-in-residen​ce at the University of Denver's Daniels College of Business, who specializes in business information and analytics.
"The steep cost of initial implementation, especially if you go the biometric route -- of capturing a biometric identification on everyone who is legal -- would take years," he says, "and hundreds of millions of dollars."
Haag notes the use biometric ID systems is already common outside of national security and intelligence work. For example, fingerprint scans are being used to identify seasonal and annual pass holders at Walt Disney (DIS) theme parks and as an entry device at some university dormitories.
Should a biometric ID card become a reality, Haag envisions a new micro-market emerging, of companies creating portable employee-verificatio​n systems that would offer their services to other businesses. "Something along the lines of...these trucks driving around now that do all the shredding that guarantee all of your sensitive documents will be 100% shredded," he says. "I think it would be cost-prohibitive for small business to acquire and maintain the hardware and the software necessary to do it themselves."
The major stumbling block, he believes, would be getting Americans to accept what amounts to a major cultural change. Most ID cards, like your driver's license or green card, explain "who you are." But biometric ID examines the very personal "what you are," as defined by a fingerprint, iris or palm scan, or other invasive methods. And Americans are traditionally not comfortable with that level of scrutiny.
Haag believes that, if done correctly, biometric ID could certainly have an impact on the use of undocumented workers and immigration. But another issue is whether small business would consider such ID cards worth their while.

"Small-business owners are going to look at this and say 'alright, what's the odds of getting caught if I have an illegal worker, and how much is that going to cost me?'" he says. "And they're going to weigh that against, 'how much does it cost me to abide by the regulations?'"
DATA PROVIDERS
Copyright © 2014 Microsoft. All rights reserved.
Fundamental company data and historical chart data provided by Morningstar Inc. Real-time index quotes and delayed quotes supplied by Morningstar Inc. Quotes delayed by up to 15 minutes, except where indicated otherwise. Fund summary, fund performance and dividend data provided by Morningstar Inc. Analyst recommendations provided by Zacks Investment Research. StockScouter data provided by Verus Analytics. IPO data provided by Hoover's Inc. Index membership data provided by Morningstar Inc.
MARKET UPDATE
[BRIEFING.COM] The stock market finished an upbeat week on a mixed note. The S&P 500 shed less than a point, ending the week higher by 1.3%, while the Dow Jones Industrial Average (+0.1%) cemented a 1.7% advance for the week. High-beta names underperformed, which weighed on the Nasdaq Composite (-0.3%) and the Russell 2000 (-1.3%).

Equity indices displayed strength in the early going with the S&P 500 tagging the 2,019 level during the opening 30 minutes of the action. However, ... More
More Market News