The Academy Awards gambles on Seth MacFarlane
He's wealthy, savvy and has a crude sense of humor best suited for 20-somethings. Is he the right host for the Oscars?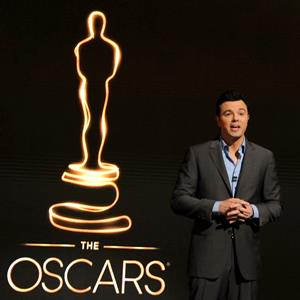 Seth MacFarlane is funny, talented and really rich, with a reported net worth
of about $100 million
. But is the "Family Guy" creator the right choice to host this weekend's Academy Awards?
Writing Friday in Advertising Age, Brad Adgate of Horizon Media
makes a compelling case
that the marriage between MacFarlane and Oscar may not be a match made in heaven.
For one thing, MacFarlane's television shows -- including "Family Guy," "American Dad" and "The Cleveland Show" -- attract mostly male audiences with a median age of 32. The Oscar telecast is so skewed toward women some have called it "The Super Bowl for women." 
"Ted", MacFarlane's film about a teddy bear with a potty mouth, grossed -- and "gross" is a good way to describe this hysterical movie -- $535 million globally. That's the most ever for an original "R"-rated comedy. You can bet that many women who attended that movie were dragged there by their husbands and boyfriends.
It was a great year for Hollywood all all around. Domestic box-office sales hit a record $10.8 billion in 2012 and movie attendance increased for the first time in three years. Adgate cites 2011 data from the Motion Picture Association of America showing that frequent moviegoers tend to be 25- to 39-year-old men.
There is just one problem with that factoid. "This is the same demographic that is more likely to watch Seth MacFarlane shows on Fox and least likely to watch the Academy Awards," according to Adgate. "A look at the top-grossing movies in 2012, many of them popular with young adults, indicates that very few of them received any Oscar recognition and none of them were nominated in major categories."
Walt Disney Co.
(
DIS
) is hoping that Adgate is wrong. As my colleague
Bruce Kennedy
recently noted, the company's ABC Network is charging $1.8 million for a 30-second spot on Sunday's telecast.
Producers of the Academy Awards have tried to attract young audiences before. Who could forget the disastrous 2011 telecast featuring hosts James Franco and Anne Hathaway? Many fans sure wish they could.
MacFarlane, though, is a smart guy. He doesn't want to blow a chance to introduce himself to a wider audience. Then again, he is great at skewering the pomposity of Hollywood. Whatever happens, it will be a an Oscar to remember or forget.
--Jonathan Berr does not own shares of the listed stocks.  Follow him on Twittter @jdberr.

Strange choice, given all of the facts - including that "Ted" notwithstanding (a mediocre movie filled with some incredibly funny moments), Seth is mainly a guy's cartoon producer. When you watch, see if you can imagine if Seth had any influence on the show's production or if he will be limited to scripted remarks. Anything to make the program interesting would be appreciated.
Now that the show and millions of comments have aired, it's official: Not that funny and kind of offensive in an unfunny way. Hmm, sounds like what you should expect from a cartoon producer.

MacFarlane is Funnier then hell...And some of his shows have taken on touchy subjects, but many times in a different light ?....America has quit laughing at themselves and others, and are way too serious because of trying to be PC... IM/OO.
We don't watch American Dad that much...And Cleaveland was much funnier, when part of the Family Guy cast...To each his/their own..
But we are more then twice as old as his 32 yr. demographic; And we still like to giggle and bust out laughing...Maybe we are still young at heart and REALIST..??
And I really doubt MANY knew another NEWCOMER, years ago; When he came on board, Oscars.
What was that guy's name?? Yeah, Billy something ?? Was it Crystal or something like that ??
The Academy Awards or Oscars, shouldn't be just a Fashion Show,hoping to see some titties.(well usually old guys like me)...I just want to laugh.. 
Are you sure you want to delete this comment?
DATA PROVIDERS
Copyright © 2014 Microsoft. All rights reserved.
Fundamental company data and historical chart data provided by Morningstar Inc. Real-time index quotes and delayed quotes supplied by Morningstar Inc. Quotes delayed by up to 15 minutes, except where indicated otherwise. Fund summary, fund performance and dividend data provided by Morningstar Inc. Analyst recommendations provided by Zacks Investment Research. StockScouter data provided by Verus Analytics. IPO data provided by Hoover's Inc. Index membership data provided by Morningstar Inc.
MARKET UPDATE
[BRIEFING.COM] The stock market began the new week on a cautious note. The S&P 500 lost 0.3%, but managed to erase more than half of its opening decline. Thanks to the rebound, the benchmark index reclaimed its 50-day moving average (1976.78) after slipping below that level in the morning.

Equities slumped at the open amid a couple global developments that dampened the overall risk appetite. Continued student protests in Hong Kong and a potential response from China weighed on the ... More
More Market News